American home of dream
By Wood-Mizer, Europe
If life gives you lemons, make lemonade! This is what Mack Lowery did. After his home burned down in a massive fire, Mack Lowery used 50 ha of woodland property to build a 240 sqm home for his family.
Mack Lowery turned a tragedy into a dream come true when he finished his hand built, two-story, timber frame home in the dense woodlands of Mississippi. The first log cabin which Mack originally built as a young man in 1976, burned in a massive fire that left his family homeless and devastated. "It took me a couple of years to even go back out to my farm after the fire," recalled Mack.
After he was finally able to visit his 50 ha farm again, Mack was inspired to start building again. "I visited my good friend who had just bought a new Wood-Mizer LT40," said Mack. "He introduced me to milling logs and offered to help me mill timber for a new home." Mack spent about a year cutting timber and eventually purchased his own LT40 sawmill to continue milling for another four years.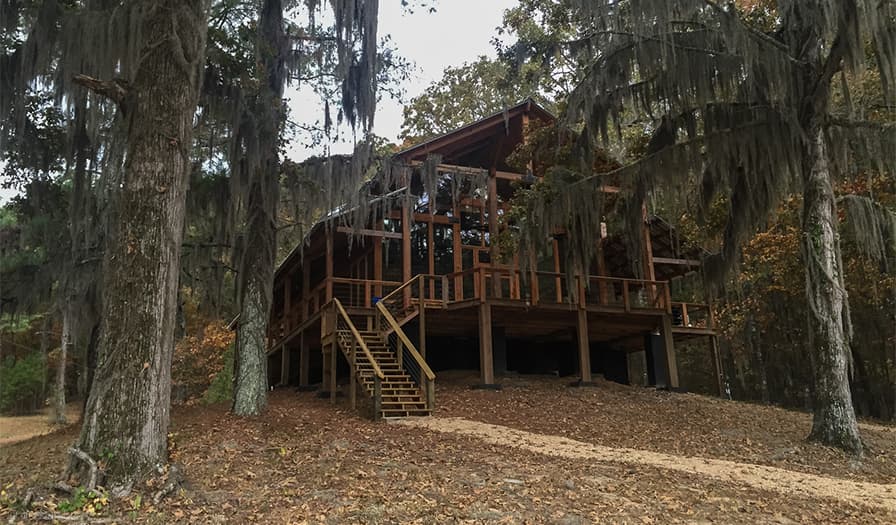 While still working at his regular full-time job, Mack used the weekends to mill lumber. "All the lumber came from my woods except the cypress and cedar," said Mack. "The hydraulics on the LT40 enabled me to handle huge logs by myself, some of which were over 75cm in diameter." Mack even milled a 100 year-old pine tree, which gave him enough lumber for the downstairs flooring.



A small crew helped Mack on the house construction. While working on the house, Mack also built sheds to store his lumber and a woodworking shop to build his doors, cabinets, and furniture for the home. Instead of notching, he used handmade metal brackets to connect the beams in the house. As a special feature for the home, Mack added a handcrafted oak and live-edge cypress wet bar that took one month to complete. Mack appreciated his Wood-Mizer's ability to cut both thin and thick slabs of wood so he could add a unique, creative touch to the interior of his home.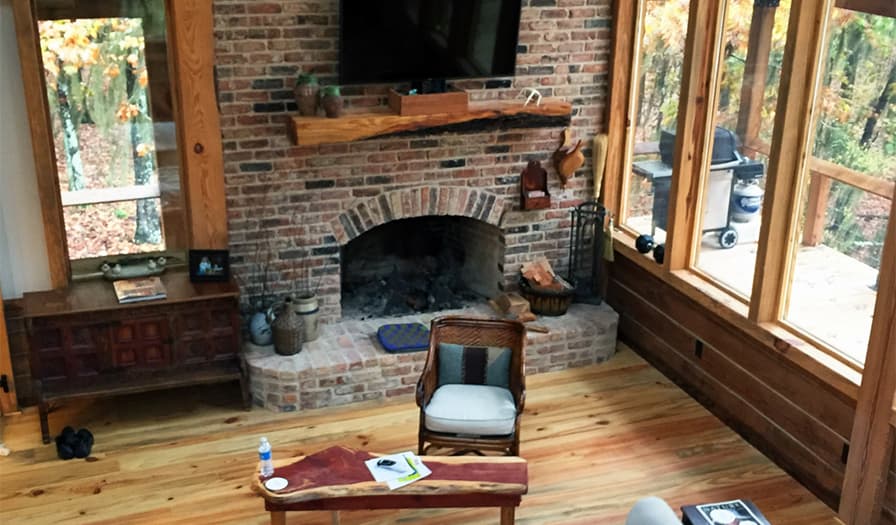 In total, Mack put more than 1,000 hours in the 240 square meter home, saving an estimated $200,000 on materials and building the project himself. "I could not have done this project without a heavy-duty and reliable sawmill," said Mack. As expected, he received many nice compliments from others who have seen the completed home. In the end, Mack was grateful that he was able to move back into the home of his dreams. "I lived in the city for 12 years after our house burned down," said Mack.
On the table near the home entrance we can read: "This home was designed and built by Mack and Melissa Lowery in the years 2014/2015. It took Mack 5 years to mill the timber from trees grown in surrounding Charbonneau Woods. May it provide beauty and happiness to all those that find shelter under its roof for generations to come".