Building Wooden Toy Cars for 'Operation Christmas Child' in the USA
By Samaritan's Purse, International Relief Ministry

More than 50 years ago Postema family in Western Michigan, USA, purchased 10 acres of woods. Tall white pines, maples, tulip poplars, and hybrid poplars dot the lush, rolling landscape surrounding Ken's beautifully handcrafted house, which he built himself.
"Some of these hybrid poplars I planted 30 to 35 years ago," Ken said. "But until last year, what was the reason I planted them."
Last year, Ken built 10,000 wooden toy cars, all of them from downed hybrid poplars and white pines, on his property. You ask – why he made so many? For Operation Christmas Child shoeboxes, of course!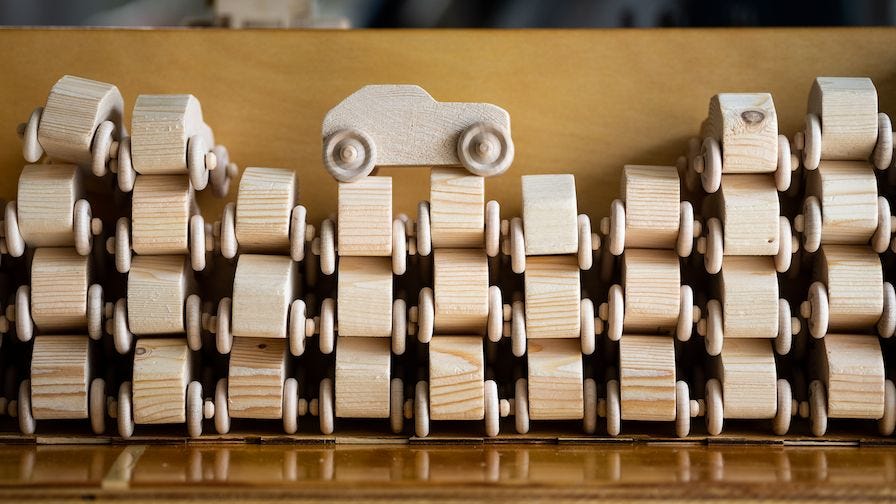 Operation Christmas Child is a charitable project started in the United Kingdom in 1990. Three years later, it was merged in a partnership with Samaritan's Purse, an international relief organization. The idea is to send Christmas gifts to children affected by war, poverty, natural disaster, famine, and disease. Every November, during National Collection Week, people donate and collect shoeboxes filled with small toys, hygiene items, and school supplies to further ship these simple gifts to children.
That's why in 2021, Ken Postema built 20,000 wooden toy cars. Ken, 69, is a retired book publisher and has dabbled in woodworking and other creative endeavors his entire life. When he was a teenager, he built go-karts and an electric bicycle and constructed his own bedroom. He learned woodworking from his father, a furniture builder.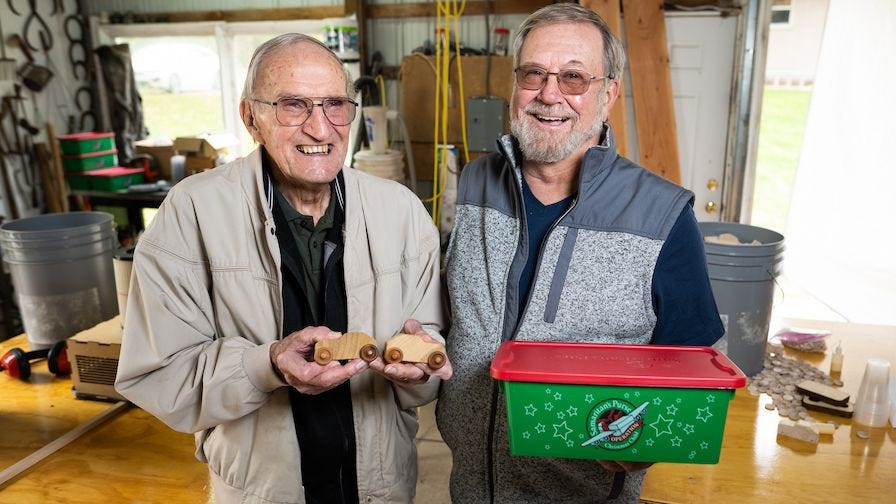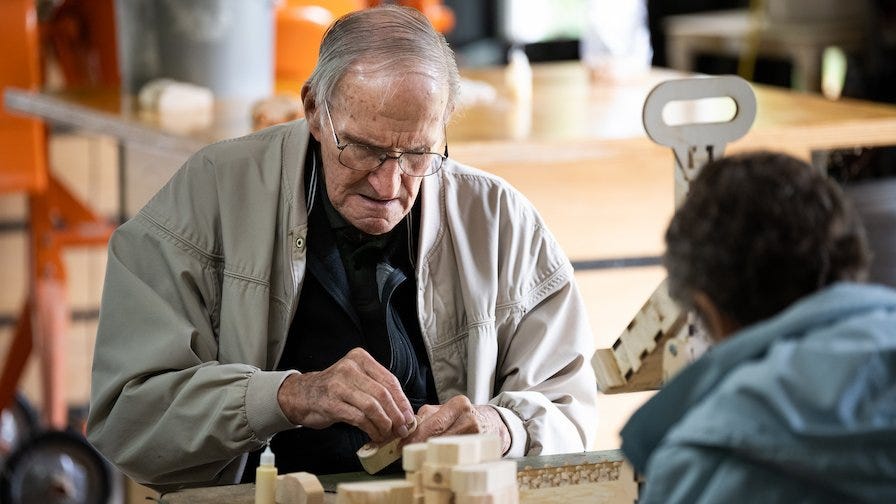 "I always looked over dad's shoulder, and he shared with me many, many methods, processes, and just the idea of how to work," Ken said. Now, his dad, Robert, 91, helps put axles and wheels on the cars that Ken builds. Since April, he's helped assemble over 17,000 toy cars, an average of around 100 per day. "It's given him new strength and a reason to get up in the morning," Ken said. "He's encouraged knowing where the cars go and what the mission is all about."
Packing Shoeboxes for the First Time
Three years ago, Ken didn't even know much about Operation Christmas Child. But when a friend invited Ken and his wife, Laura, to a shoebox packing party, they started talking and realized that with Ken's woodworking skills, they could create unique items to put in shoeboxes. But what should those items be?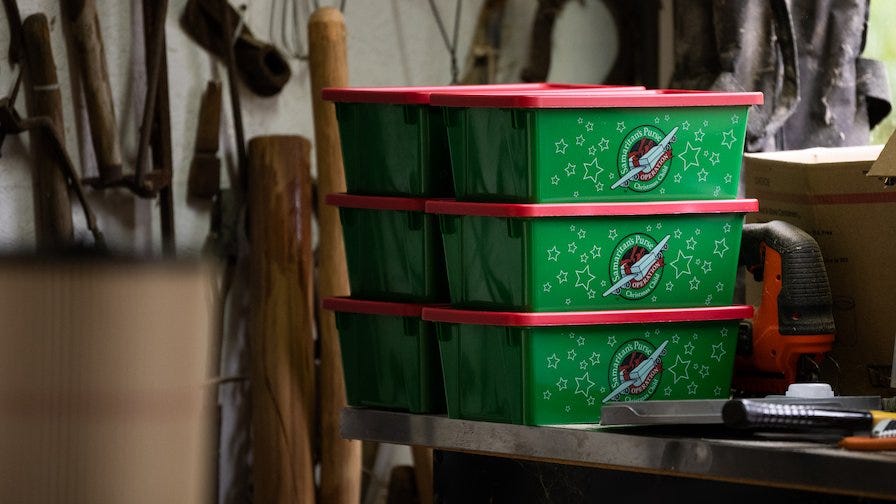 Laura, a retired school teacher, had helped pack shoeboxes when she taught at an alternative high school and saw its impact on her students. "My students came from all kinds of backgrounds," Laura said. "Many of them very troubled. Some had complicated childhoods. But the chance to fill shoeboxes was amazing for them. They knew how important it was to have somebody love them. It was awesome!"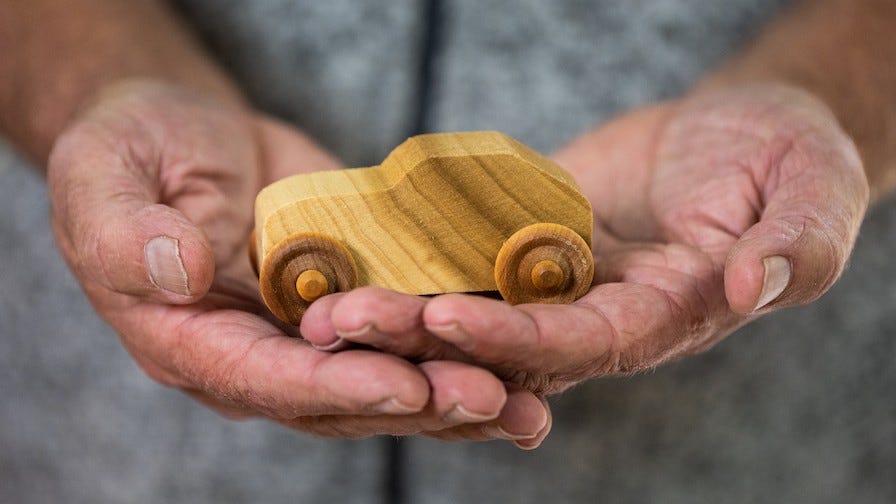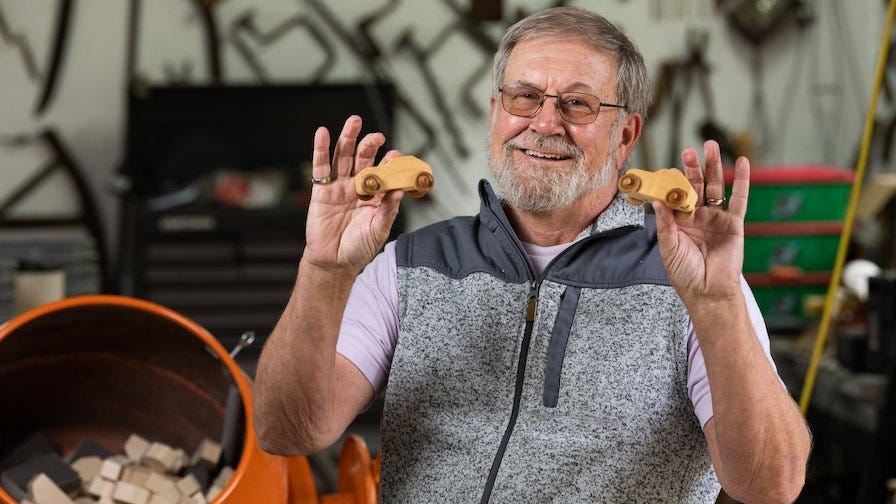 Papa's Christmas Car Shop
In early 2020, Ken began creating cars in his barn, which his grandkids quickly dubbed "Papa's Christmas Car Shop."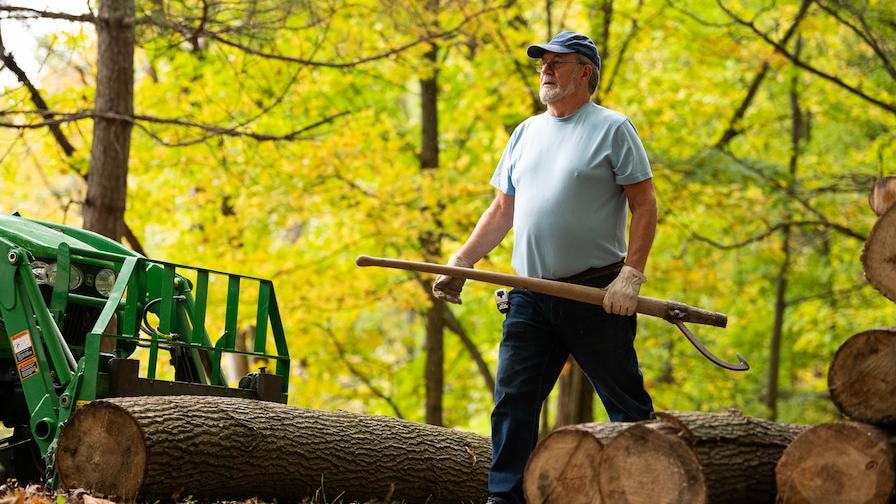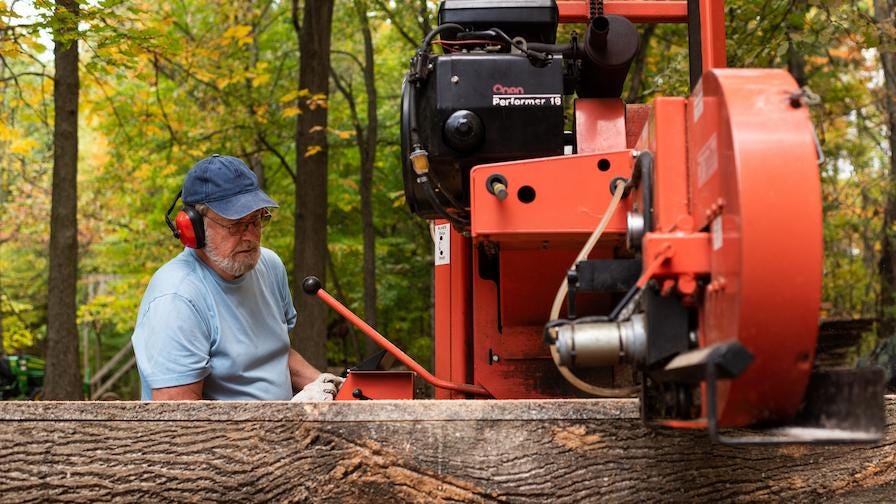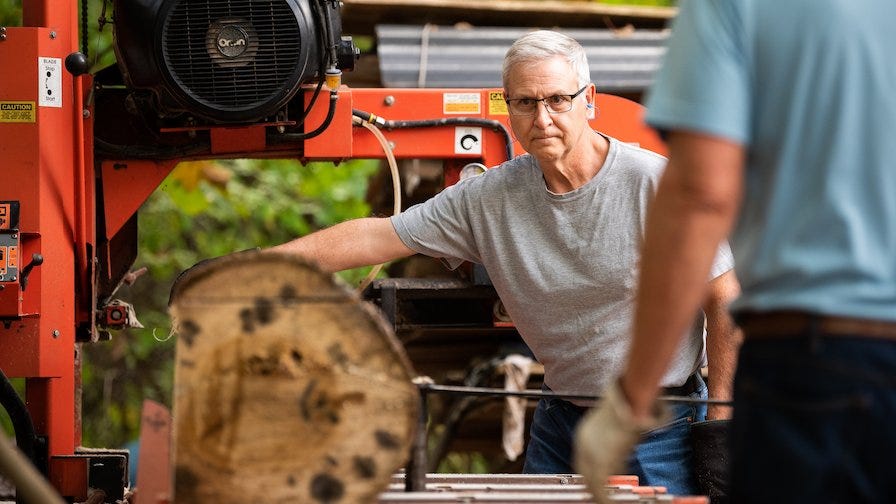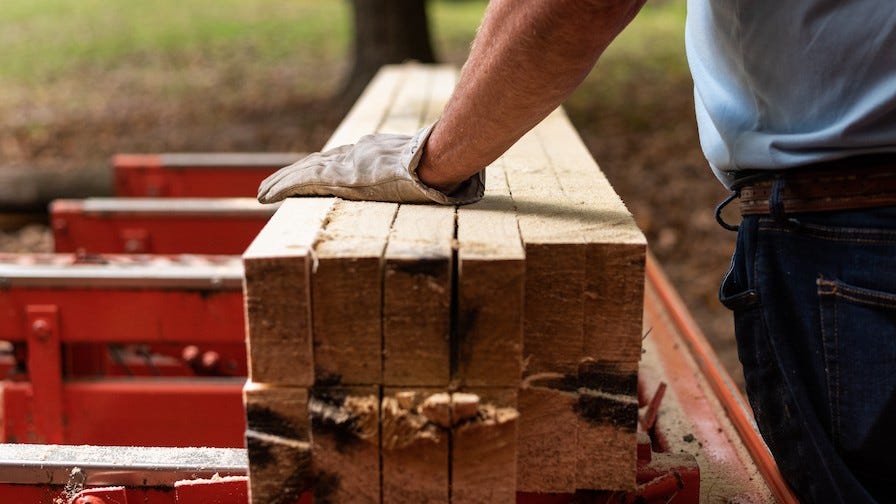 "We start with a log that's been blown down in the woods. It's then put on a sawmill and cut into two-by-fours. They air dry for at least six months," Ken said.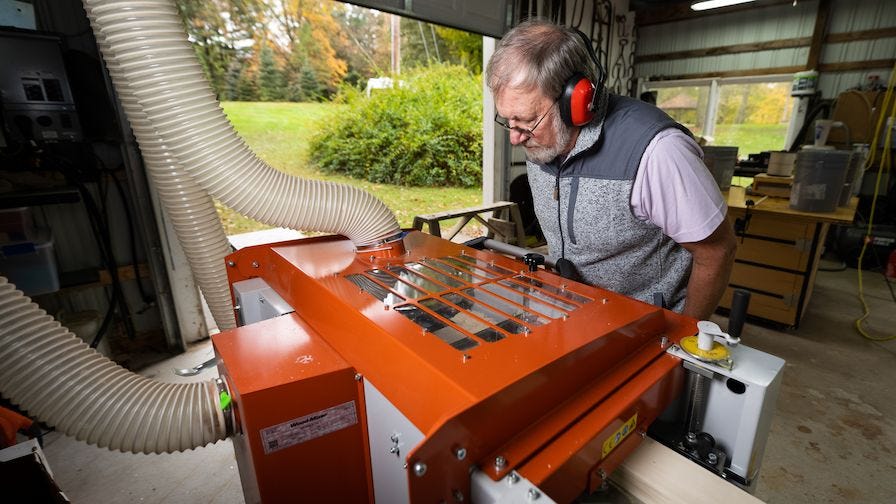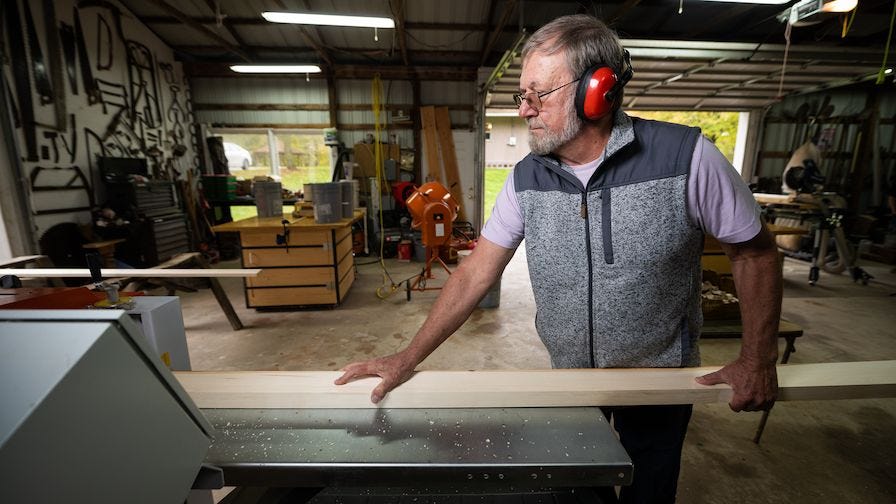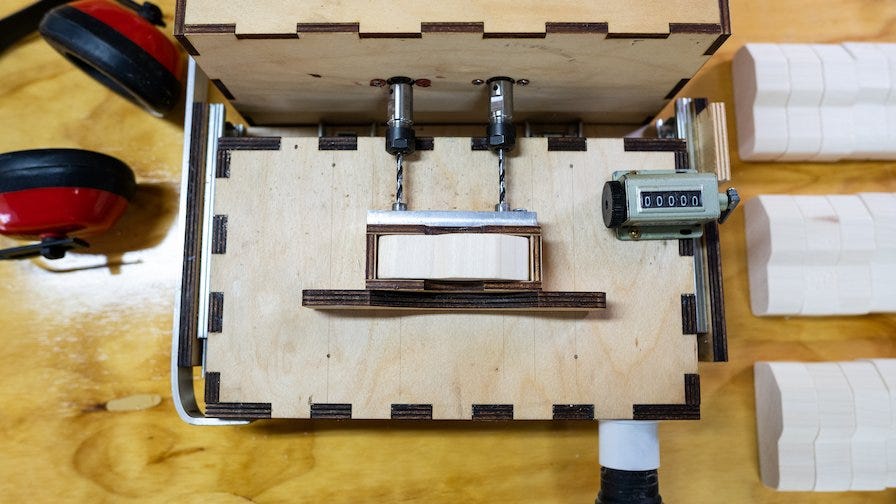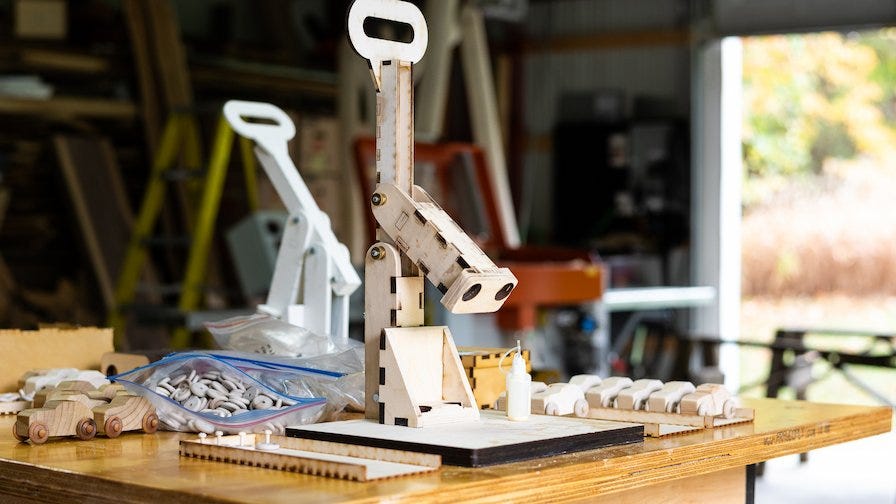 "Then they are put through a planer/molder, four-sided, and it profiles the car. The molded sticks are then brought to a chop saw where individual cars are cut. The cars then go into a cement mixer that is filled with sanding sponges. Fifteen minutes later, they are all sanded smooth. Next, they go to a custom-built axle drill where I can drill holes for up to 1,000 cars in an hour."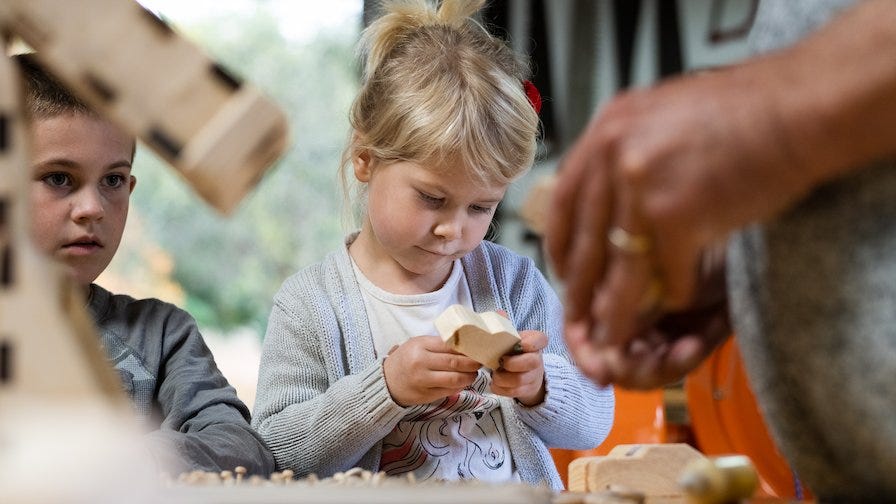 After the axle holes are drilled, Ken gets others involved. In addition to his dad, Ken's seven grandchildren and several neighbors pitch in. He gives each of them a kit that contains 100 cars, 400 hundred wheels, and 400 axle pegs, which they assemble.
After the cars are assembled, they are dipped in mineral oil that protects the toy cars from scratches and from dirt sticking to them.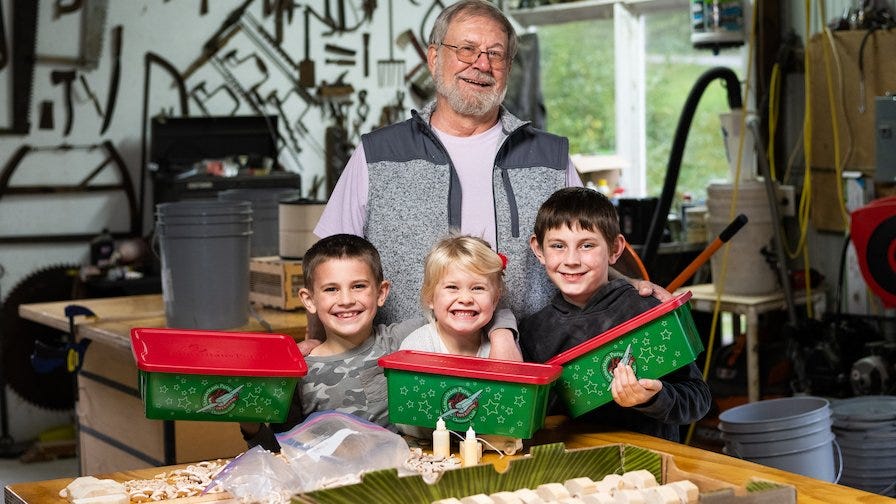 Most of the cars that Ken builds are sent to various Operation Christmas Child Processing Centers to fill shoeboxes that will reach children in South America, Eastern Europe, Africa, and the Pacific.
"This project is a way for my family and me to give back to others. Equally important is the pleasure experienced by my friends and family in contributing to this project. From our grandchildren helping in small ways to my 90-year-old dad finding renewed purpose in life, this project has touched us in more ways than we anticipated," shares Ken.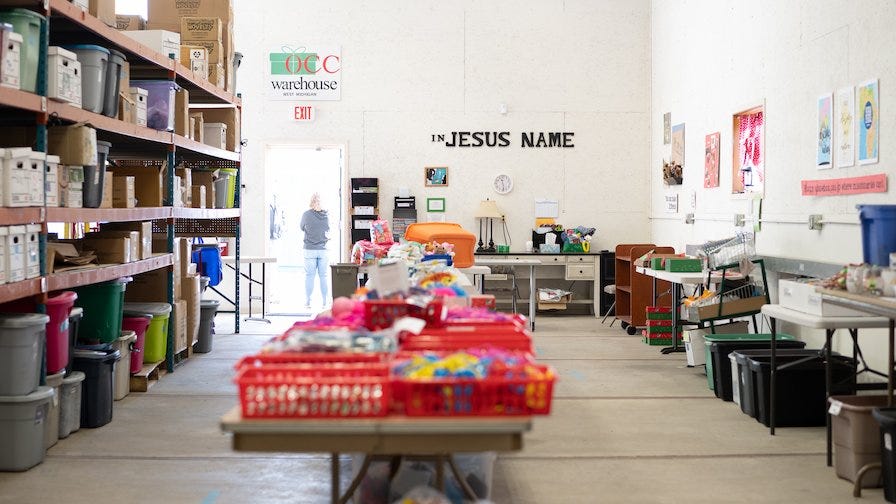 Ken is already at work building cars for next year's shoebox season. "I hope we can encourage other woodworkers to get involved so we can make a million toys, each one an expression of love for the kids."