Forest Owners Sawing Beetle-Kill and Windfall Logs to Add Value
By Wood-Mizer, Deutschland
Need to clear the forest after a windfall? Are there trees affected by the bark beetle? One profitable solution is to saw damaged logs into more valuable lumber for homesteads and sale.
The Raddatz family from the German region of Wendland is very confident with machines and mechanics. Kevin is a professional mechanic working in the Musashi Group's quality management department, and his father-in-law, Ottfried, is an agricultural machine fitter. Locals know this family well: at the annual Kulturelle Landpartie festival, Kevin welds old gardening tools, screws, nuts, and various metal objects, which once in his hands, take on new life in the form of beautiful metal decorations that people are happy to buy.
"IN TODAY'S SITUATION YOU DON'T GET ANYTHING FOR LOGS, YOU DON'T EVEN GET HOURLY WAGES FOR CLEARING THE FOREST AND HAULING OUT THE LOGS IF YOU SELL THEM, (…) THE SAWMILL OPENS UP COMPLETELY NEW POSSIBILITIES".
The Raddatz family traditionally owns a forest. Until recently, the forest served mainly as a firewood source, although Kevin's mother-in-law, Elfriede, has repeatedly said that this wood is too beautiful to be simply burned in the oven.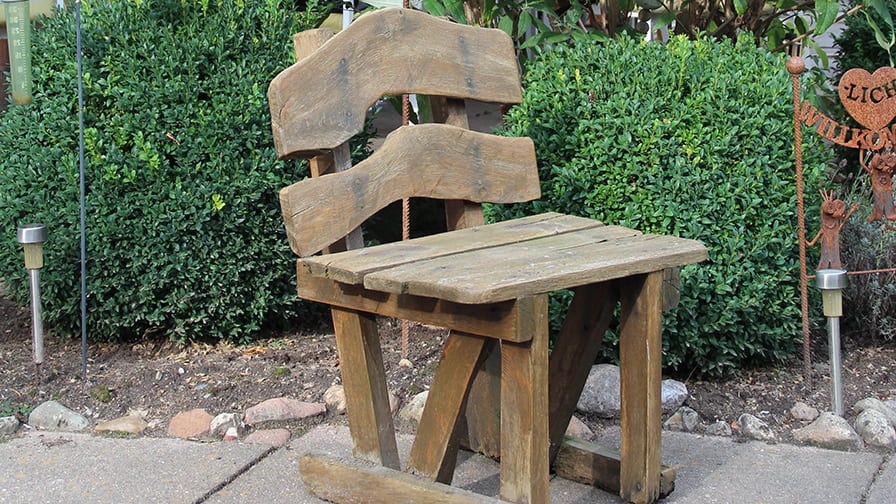 "Firewood is our hobby," Kevin says with a smile. "Ottfried and I use a tractor and chain to remove the felled trees from the forest, and we also use a chipper."
In recent years, European forests have been damaged by bark beetles and windfalls, causing the price of logs and even firewood to fall dramatically. Forest owners are facing a problem: they need to clear the plots of debris, but it is difficult to sell round logs for a profitable price.
"In today's situation you don't get anything for logs, you don't even get hourly wages for clearing the forest and hauling out the logs if you sell them," says Kevin.

That is why the Raddatz family was thinking about buying a sawmill.
"The sawmill opens up completely new possibilities," says Kevin. "We always have a construction project on our homestead that requires wood, and maintaining existing buildings often requires boards of special sizes that we can quickly produce with the sawmill. There are also trees on our site that will have to be cut down sooner or later."
Finally, the time has come, and for her 60th birthday, Elfriede received an extraordinary gift - the LX50 band sawmill.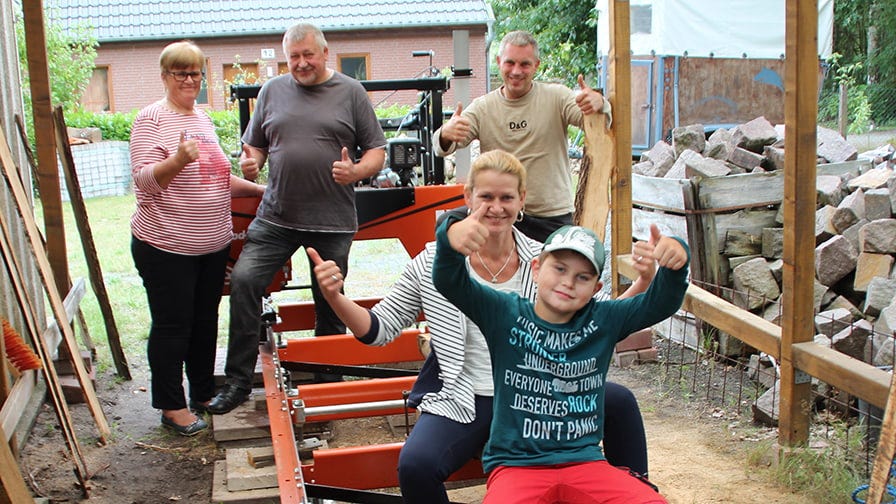 This remarkable sawmill is the smallest and most inexpensive band saw available from Wood-Mizer, a world-renowned producer of band sawmills, blades, and woodworking equipment. The LX50 provides excellent quality: the boards are precisely dimensioned along the entire length, the cut surface is smooth, and thanks to the narrow band blade, the kerf is no more than 2 mm thick. Therefore, more valuable material can efficiently be cut out of each log comparing with a traditional chainsaw.

The design of the LX50 sawmill includes a bed consisting of several segments which should be installed on a leveled area such as in a garage or a yard under a shed, and a saw head with two blade wheels and a motor. It is possible to choose the type of motor - either three-phase electric 5.5 kW or petrol 14 hp, which is very helpful in places where there is no easy access to electricity, for example, in a forest. The LX50 is delivered on a pallet and is easy to assemble by connecting the segments of the bed, aligning it by adjusting the legs, and installing the saw head on the rails. The head is moved forward and back by pushing and is adjusted to the desired board thickness using the handle.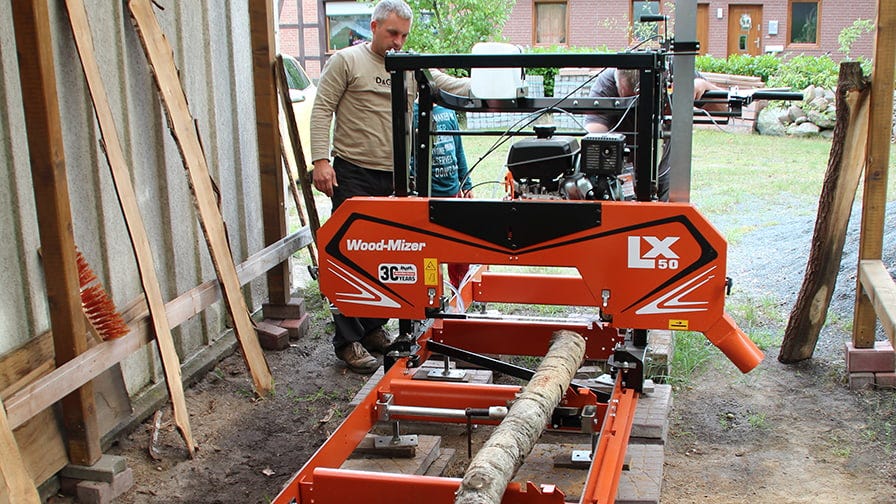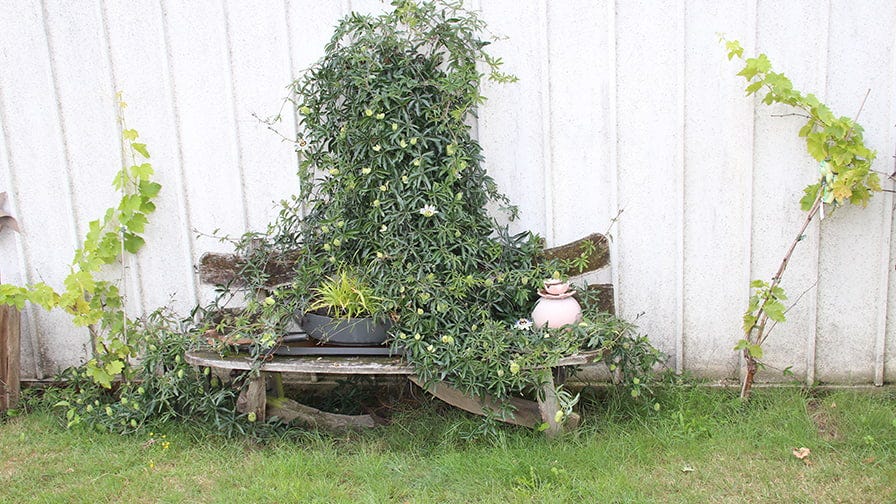 The LX50 sawmill can be ordered in the Wood-Mizer online store.