From Log... To Modulog in Wales
By Wood-Mizer, Europe

What don't John and Leigh Price do with their woodland? Their workshop and 10 acres of Welsh woodland near Builth Wells is not only their place of business, it is also a destination for woodland management courses, conferences, school field trips, and soon will be where people can spend their holidays in 'glamping' pods nestled throughout the woodland.
John and Leigh manage timber frame building projects and renovations from their workshop; past projects including Windsor castle renovations.
After 25 years working as a carpenter, John Price starting Smithfield Joinery in the year 2000, his son Leigh joining after his military service. Seven years ago, they implemented a woodland management plan for their acreage. They wanted the woodland to be able to work for itself – to be beautiful and useable at the same time. To do so required thinking about the future of the woodland, how it would be used, and how to maintain it.
Previous owners had felled all the oaks and had left the conifers, and so John and Leigh worked with the Forestry Commission to create a replanting strategy which entailed leaving half of the existing conifers up, and replanting native species among them.
"The larger conifers have shielded the smaller saplings from the wind and so they've grown really fast," Leigh shared.
Modulog Inception
While thinking about how to use the natural beauty of the woodland in a profitable way, they decided to place small cabins along the forest trails and rent them out.
"We wanted something that would blend into the woodland," recalls Leigh. "And we wanted to use 'waste' material from our sawmill." Instead of buying cabins, they set out to design their own unique 'glamping' pods, for those who want to camp with a little more 'glamour' than usual.
With an architect, they designed their own unique glamping pods to be durable and versatile for varying uses as garden offices, summerhouses, writing studios, fishing huts, and more. And their new business venture – moduLog – was started.
Design
"It's built to last for 20 – 30 years without doing anything to it," Leigh explains. "Everything is built to building regulation standards. So you get a solid structure that's built to last and can be used in all weather conditions."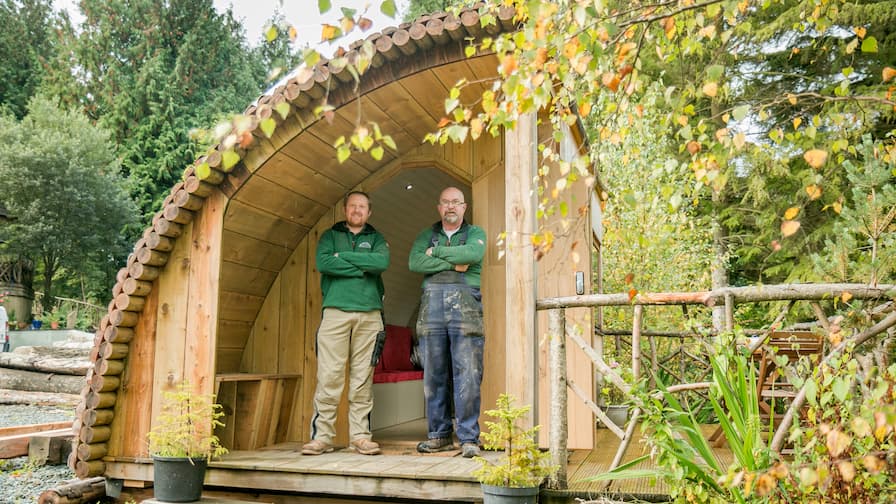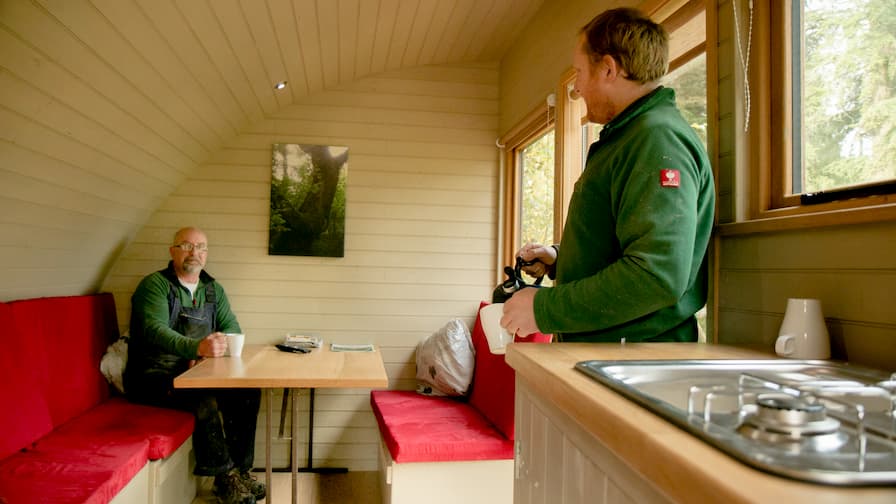 The cabins are modular – they can be combined in various ways. The exteriors and interiors are easily customizable although the core structure remains the same. Interior furniture converts into beds and have storage space inside. The kitchenette allows for indoor cooking and is mobile for outdoor cooking when the weather is nice. Power can be hooked up, or the pod can come ready with a solar kit that provides enough power for a TV, computer, and basic electric needs.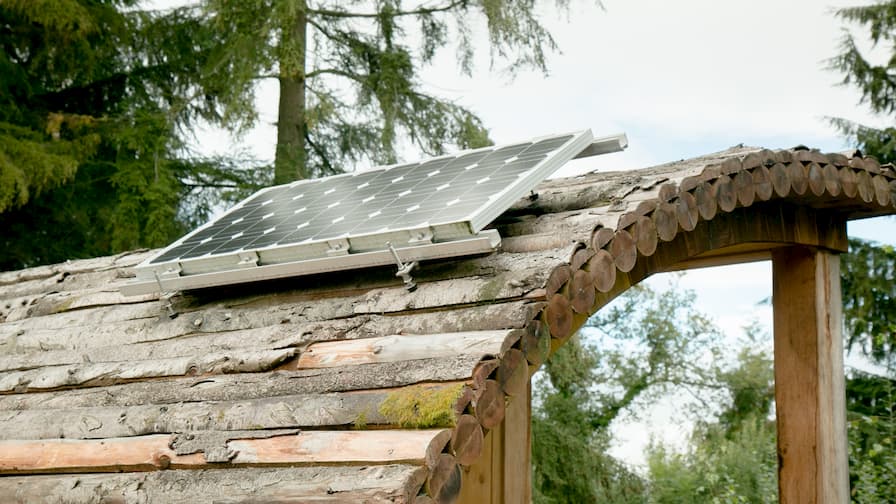 Locally sourced sheep wool insulation in the ceilings, floor and walls keep the pod warm during the winter and solar reflective insulation in the roof helps to keep the pod cool in the summer. Anti-vermin mesh covers the entire exterior to keep out pests.
"The timber we use was based on what timber we had in the woodland," shares Leigh. All exterior wood elements are milled from trees grown on their own property or from local sources – oak doors, window frames and western red cedar and Douglas fir cladding are sawn and processed in the workshop.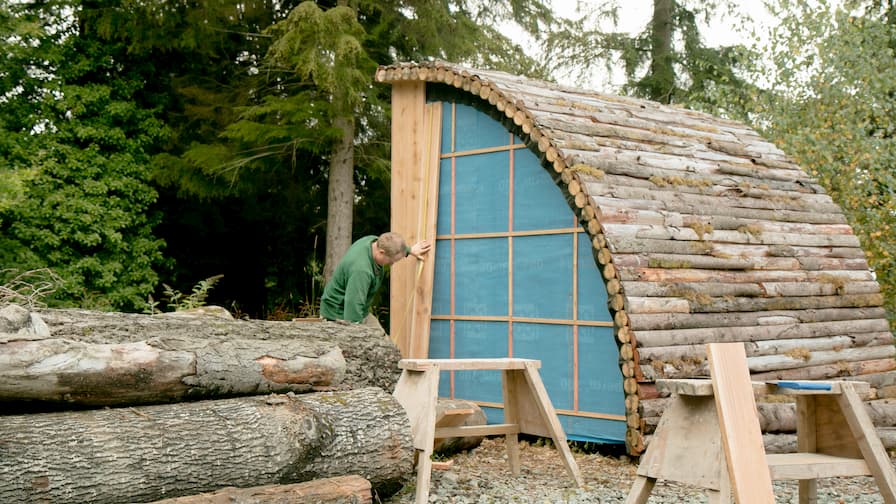 "For the exterior, we wanted the pod to look like a pile of logs, so we use the first cut from the logs," Leigh explains. "We have other roof options – log lap, waney-edge boards and artificial grass. We like the log look because moss and lichens will grow all over it. People ask how the water stays out, but it's only for looks really, all the weatherproofing is underneath."
Sawmilling and construction
"We only select a few trees to cut down at a time," Leigh shares. "We'll be putting log cabins and glamping pods in the woodland, and so we want to keep it looking like a woodland."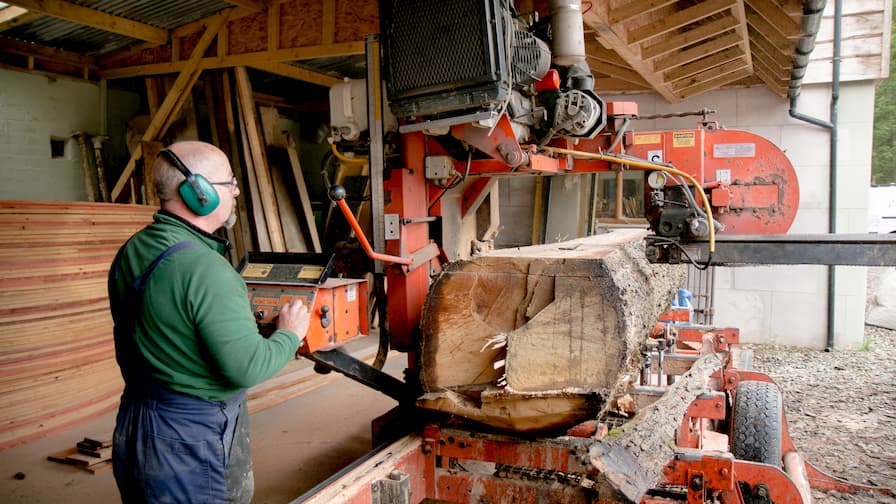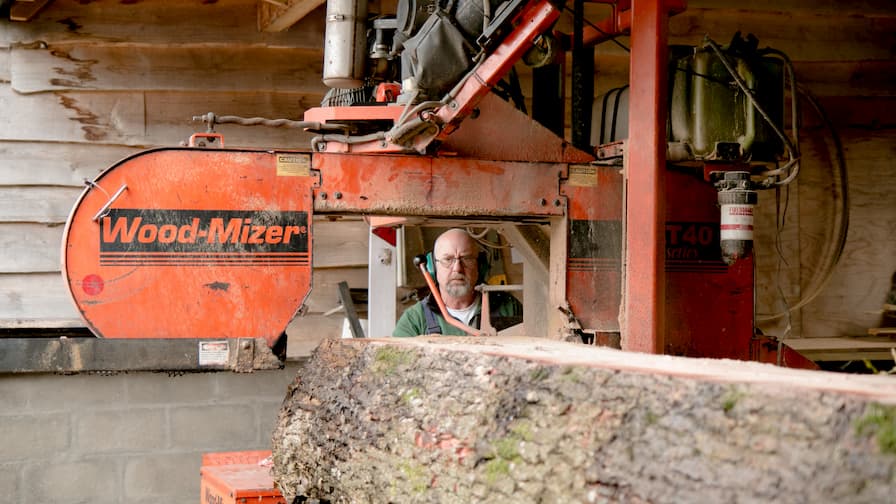 Once the trees are felled, they are then sawn on a Wood-Mizer LT40 sawmill into the exact sized timbers needed to complete the project. The sawmill has hydraulic log loading arms and functions for positioning heavy logs easily, so John can focus on cutting the boards and beams he needs.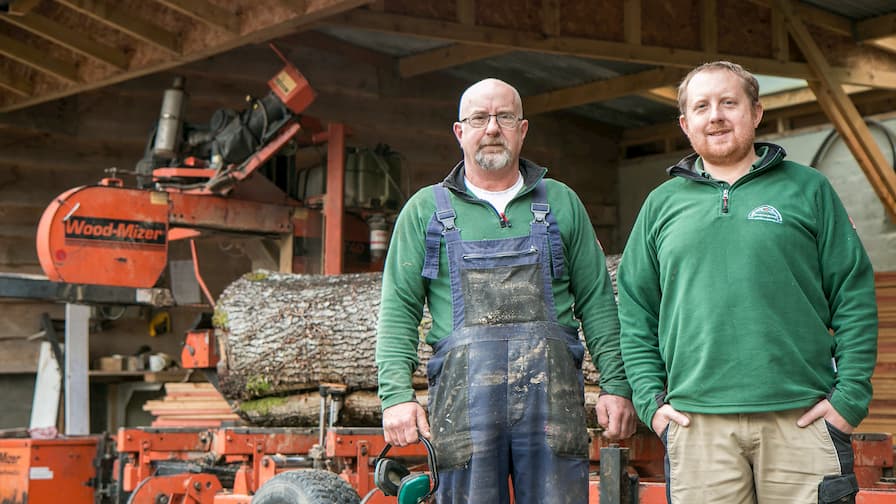 "As long as you know what you're doing, you can cut any different sizes of timber you want," says Leigh. "You decide what you want, you get the log you want, and you cut the timber you want. Buying in already machined timber is a lot more expensive than using your own. We save about 20% on the exterior timber and 100% on the log halves that we use on the roof by sawmilling it all ourselves."
Since the sawmill is on wheels, John and Leigh can also take it out on jobs to cut timber for customers who have logs on site.
Features and Customisation
People often ask what they can use the moduLog cabins for. Leigh's standard reply is – "You can use them for anything you want! You can design it to suit your needs. It's not just off the shelf, one size fits all." In spite of the variety of uses, all the inquiries seem to have one common goal in mind – a more intimate connection with nature.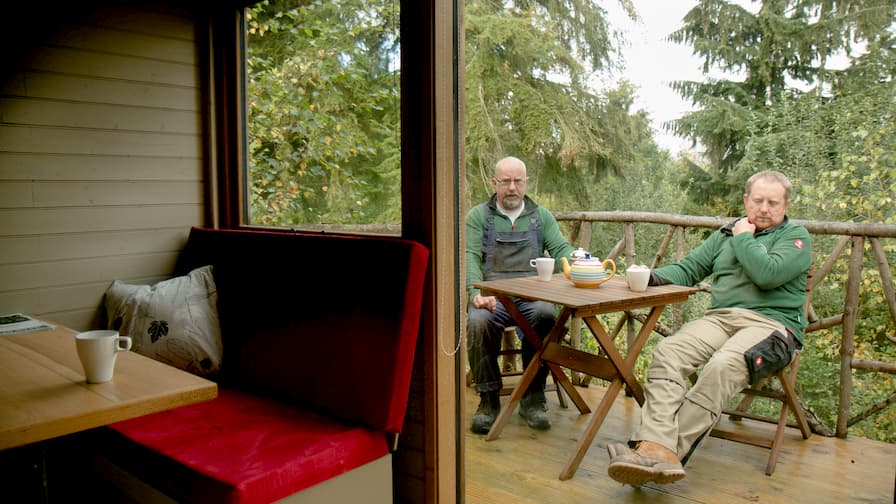 "With all the glass, they can just sit looking outside at nature," Leigh shares. "The last one we did was an office for an author; he sits inside and writes all his books."
After receiving the initial request for a quote, Leigh goes to work to customise the proposed design to their needs, preferences and budget.
"Because it is modular they can plan how many sections (pods) will be needed, and if they want big windows or small windows," says Leigh.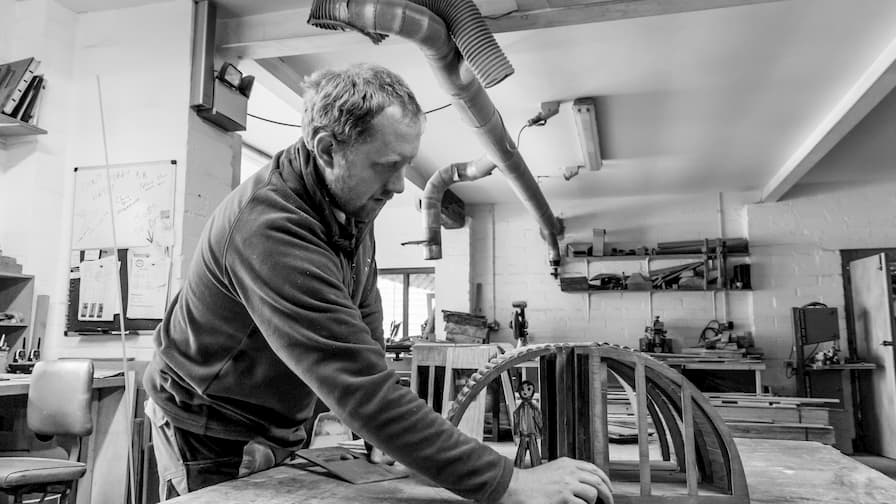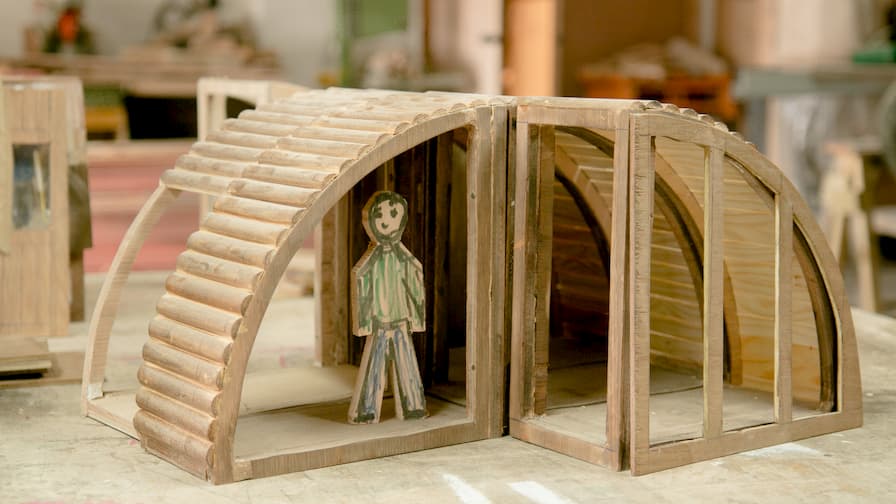 Full-sized moduLogs can be toured at the workshop, and during the planning stage, Leigh uses scale-model versions of the pods to demonstrate the various configurations possible. This helps clients get hands-on with the layout and see what the final project will look like.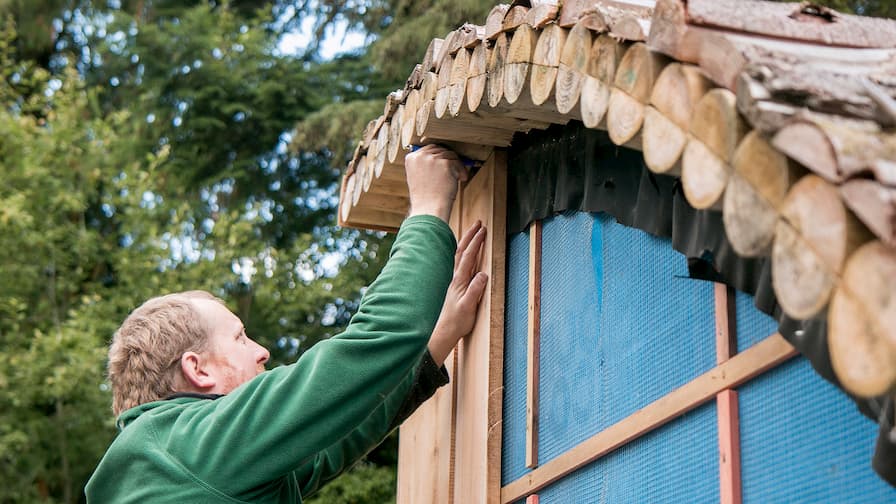 Once the final project is constructed, it is in a modular kit form that can be transported as a flat pack. Usually the finished moduLog cabin is constructed on site, but smaller pods can be delivered finished on a trailer.
Woodland management courses and importance
"Woodland management is very important, especially for us because we use a lot of wood. It does not cost much to plant trees and to look after them," shares Leigh. "And you have financial rewards in the future."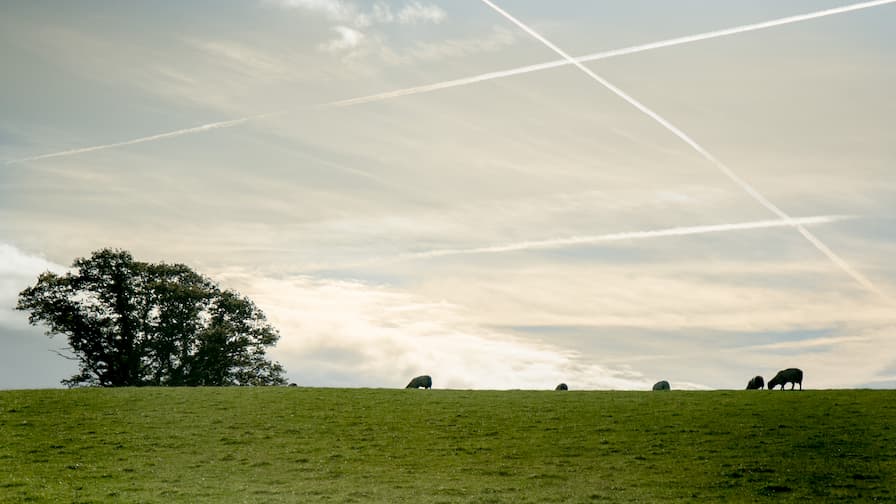 John and Leigh put on three courses that cover the whole process of woodland management, sawing and processing timber, and building with that timber.
"People come here and learn from 'seed to saw' and what goes into producing timber and then what you can use that timber for," Leigh shares. "It was my dad's idea to pass down his experience and his knowledge to other people and then they could pass it down."
"Schools bring kids here, so we have a place where the kids can come and learn about trees and planting, growing, felling and processing them on the sawmill, and then see the finished project being made in the joinery shop," Leigh shares. "It's all about passing down knowledge and experience to future generations."
More information: