LT40 Sawmill History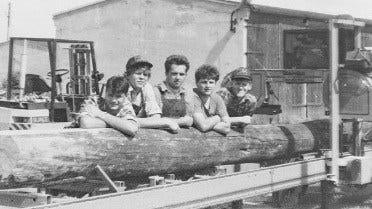 Revolution on Two Wheels – The Birth of a New Sawmilling Technology
In 2022 we celebrate the 40-year birthday of the famous Wood-Mizer LT40 sawmill that revolutionized the way people mill wood around the world. This orange sawmill with a characteristic saw head suspended over the sawmill bed, two wheels, and a tow clamp, has won recognition and popularity among customers worldwide. Today, the LT40 is known as a "legendary" sawmill.
The LT40 Sawmill History: Sawhead and Control Panel Upgrades
TODAY, the Wood-Mizer LT40 model sawmill created in 1982 is called "legendary" as it forever changed the way people convert logs to timber. It allowed everyday users to produce ready boards and beams quickly, and efficiently, and, most importantly, the mobility to process wood on-site. In the 80s, the LT40 sawmill also unlocked a new direction in building portable machines for processing logs.
The LT40 Sawmill History: Blades and Blade Guide System Upgrades
The sawmilling industry in Europe in the late 1980s was believed to be old-fashioned and inefficient, relying mainly on heavy frame sawmills. These outdated sawmills used thick and wide blades for sawmilling logs, limiting timber production. A breakthrough came at the beginning of the 1990s, along with the launch of the first Wood-Mizer LT40 sawmill featuring a thin and narrow sawmill blade designed to increase cutting efficiency while reducing waste.