Malaysian Schoolteacher Achieves Dream of His Own Woodworking Venture
Out of the countless sawmillers throughout Asia I have visited, Mohd Nazmie is truly unique. It's fairly common for individuals in Europe or North America to purchase and operate a small sawmill to pursue their woodworking passions, and produce timber products as a side business. In Asia, there are no such examples that I know of – Mr. Nazmie is the exception to this rule.
In the East Coast region of Malaysia, in the State of Kelantan, just outside of the town of Kota Bharu, Mohd Nazmie lives with his family. He's a schoolteacher. And he's a woodworker and sawmiller. He salvages trees that otherwise would have been burned. He produces and sells live-edge furniture for friends and local clients. Thanks to a daring investment in an LT15 sawmill, he has opened up a whole niche industry to himself. I believe that many others in Asia could follow his example.
"I'm a school teacher and I have been teaching for 10 years," shares Nazmie. "I teach English as a second language. I try to tell my students to believe in their passion. I want to encourage my students that whatever you do, to do your best. If my student can be a good person in society, and to their family, that's the best satisfaction I can have."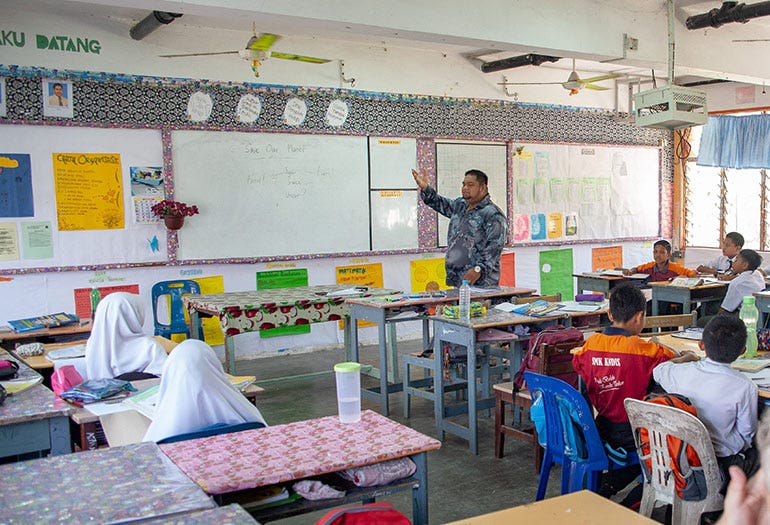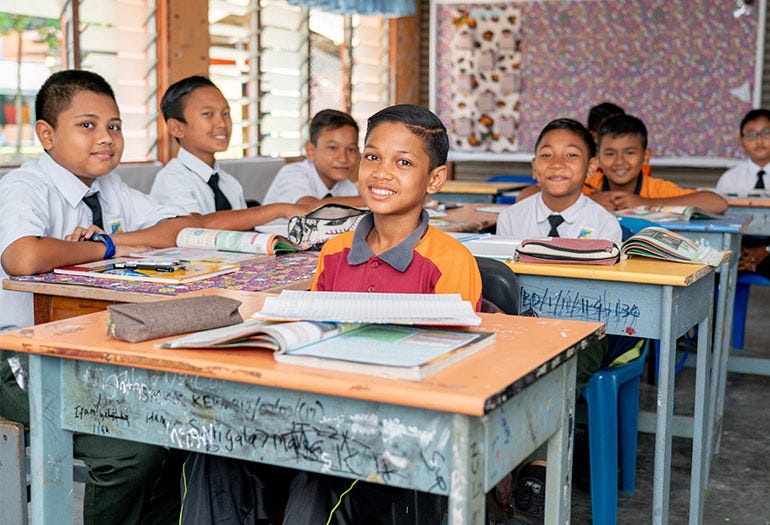 From schoolteacher to sawmiller
"Seven to eight years ago I saw logs that were being cut down and burned when someone wanted to clear a field, or to build some houses. They just cut it down and burned it."
The trees were perfectly usable, but the contractors or farmers had no practical way to utilize the wood properly, so for them the trees were simply in the way. Nazmie decided to try to put the trees to better use, and so he started offering to buy the logs. This was a win-win for both sides, and so Nazmie found himself with a steady supply of good quality logs.
But without a good way to convert the logs into quality timber products, Nazmie went online to find better processing solutions that he could afford and use himself.
"I used a chainsaw and hired village men to cut and lumber the logs for me. It took too much time, and so around 2012, I got the idea to buy a Wood-Mizer sawmill from researching on YouTube. I talked to my wife and we agreed to contact Wood-Mizer. And now I have the LT15."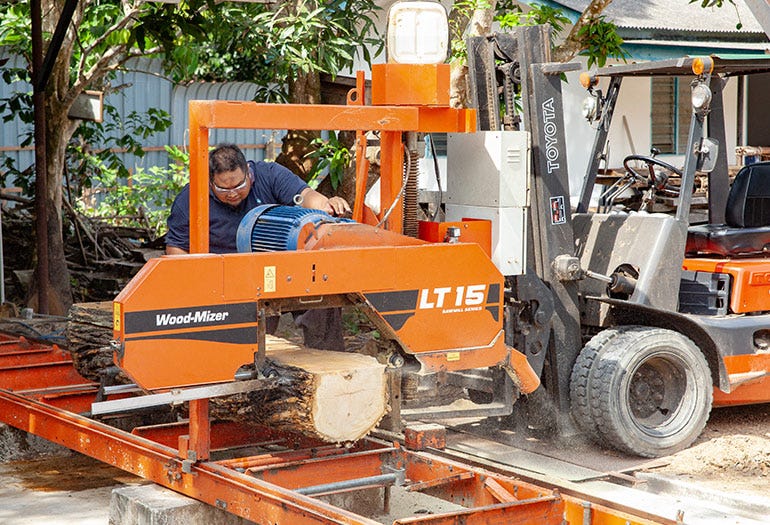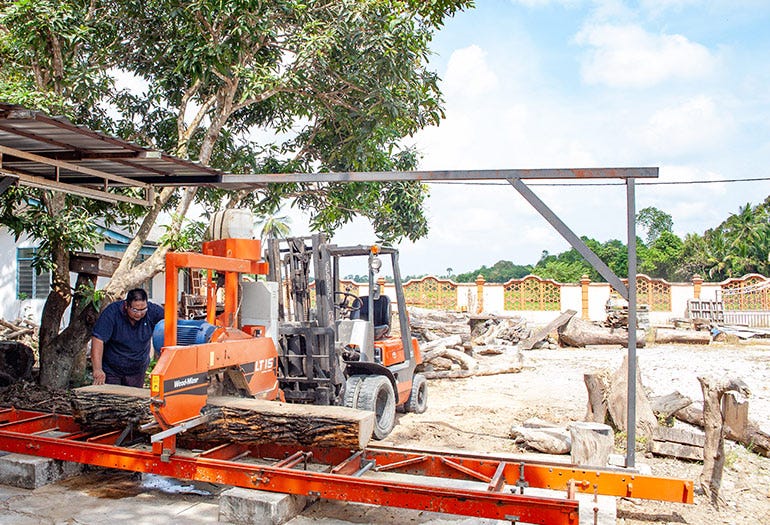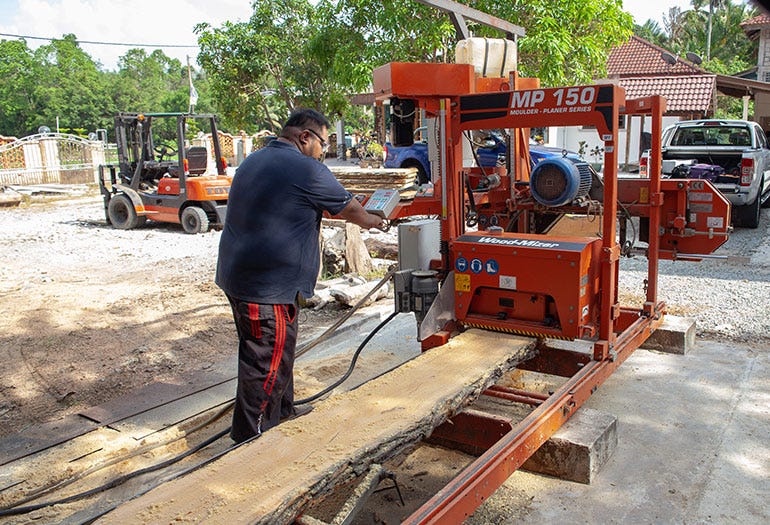 "I learned how to cut and how to operate the machine through YouTube, and Wood-Mizer's website. And then, of course, I received training through Wood-Mizer's agent in Malaysia."
"A local chainsaw operator told me, 'You are a school teacher. You cannot do this. You don't have any experience.' So after I finished cutting a log, the man came again and asked me, 'Where did you buy the lumber?' I said, 'I cut it! I lumbered it myself!' And he couldn't believe me!"
Products & Production
"I bought the LT15 because I can cut whatever I want with it. The wood species I use mostly is tembusu, a tropical wood that grows near the beach. Tembusu is very hard and tough, and even termites don't eat this wood!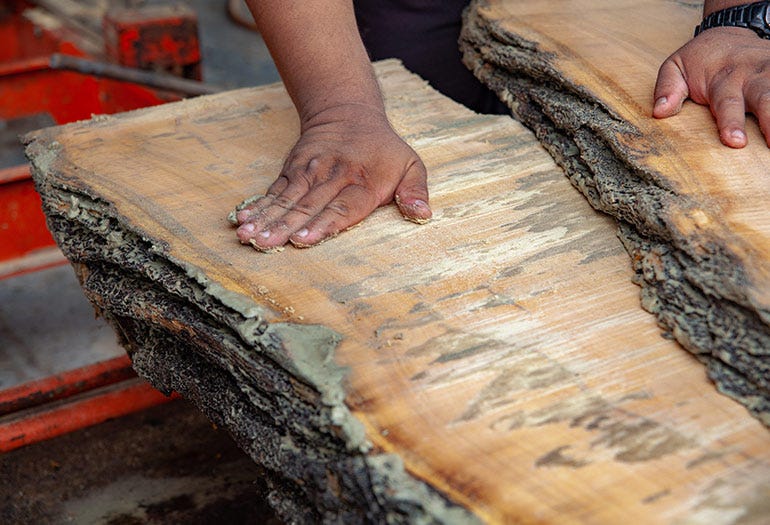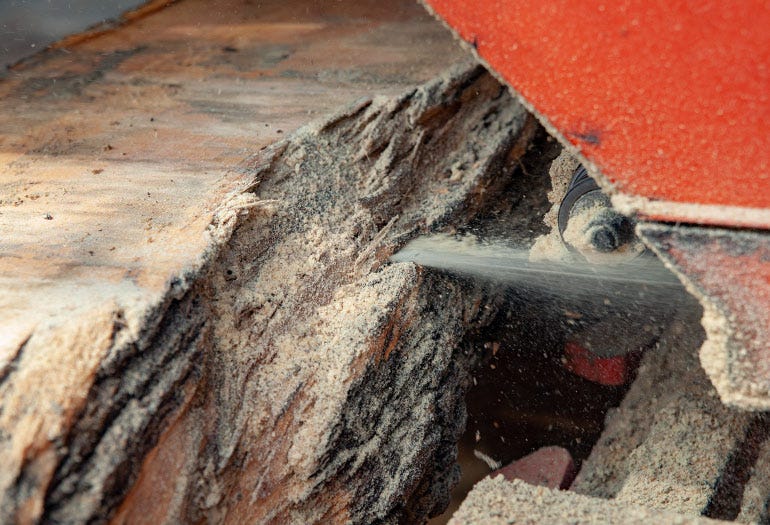 "My main products are rustic furniture and I produce a lot of slab tables. And sometimes I cut for my friends or customers if they want lumber. One dining table we can sell for RM3,000 - 4,000. And I have sold more than 10 tables."
"I cut everything with my LT15. Personally, I love this machine because it helps me to cut everything. After I cut with my LT15, I plane with my MP150 planer/moulder which is attached to the sawmill. With the MP150, we can cut profiles or just plane it smooth. So we don't have much work to do - just a little bit of sanding, then put on some finish or a clear coat, and it's finished! With the LT15, I can work alone. I don't have to hire another worker, I can do the work by myself."
"Sometimes I make dining tables, rustic bookshelves, and king-size or queen-size beds. We also produce shoe racks and beehives. My friend has 50-60 beehives that I made for him."
Tembusu is considered a very hard wood that is great for chopping boards or flooring, and as Nazmie said, termites and weevils avoid it. It's been known to easily last 100 years.
In order to cut the tembusu wood, Nazmie uses Wood-Mizer's DoubleHARD bandsaw blade, which is generally sold as an all-around blade for common sawmilling needs. Wood-Mizer also supplies RazorTIP Carbide blades for cutting Asian hardwoods, but Nazmie seems content with the performance of the DoubleHARD blades in tembusu.
"So far I am using the DoubleHard blade. It's a very good blade. So far, it has cut everything. DoubleHARD is very affordable. But it's great for cutting hardwood and softwood."
"Every time I cut some wood, I take pictures and I upload it onto my Facebook page and website for my company – Tembusu Woodworks. Many people view the page and get interested and contact me."
Conclusion
"Ten years ago, I knew nothing about wood. I knew nothing about sawmilling. But I had a little bit of courage, a little bit of passion for wood, so I decided to do something about it. It started as a hobby. I never imagined that I could have come this far!"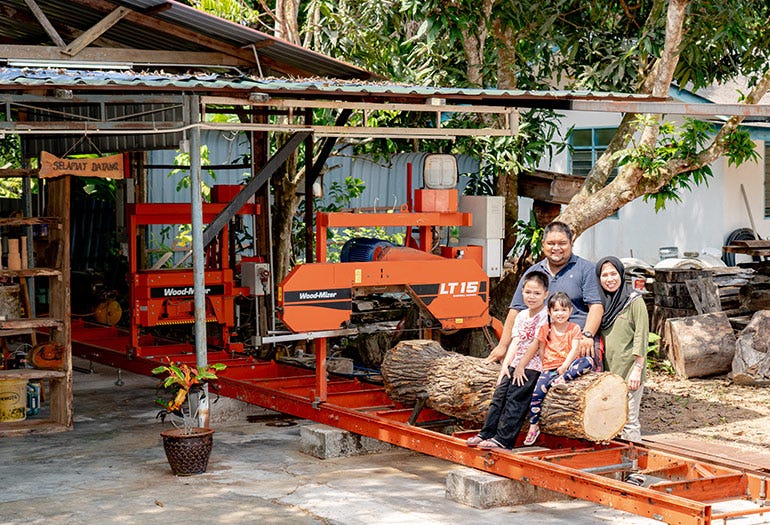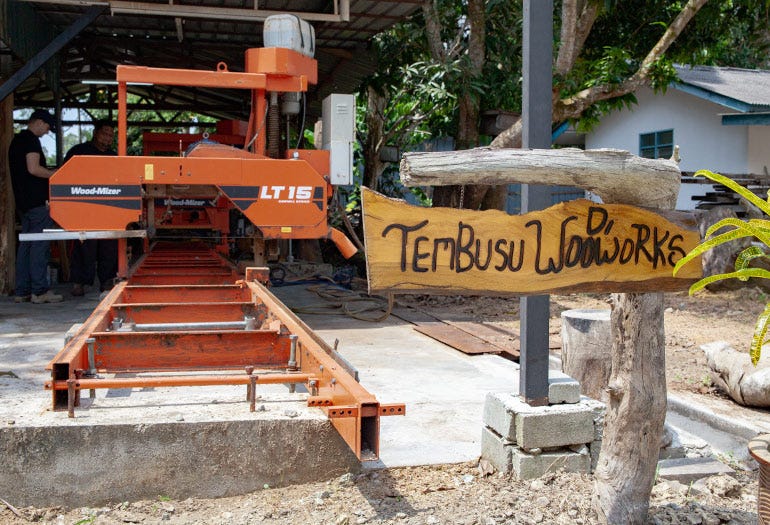 "Sawmilling has the potential to earn you money to raise your kids and to live your life in the way you wish. I believe that by having this type of machine and by doing some part-time business, it can add to your monthly earnings. Of course, behind every successful man, there is a good lady. That's definitely my wife."
"If other communities outside want to buy the LT15," Nazmie's wife Nor Zalihan says, "We really encourage them to buy the LT15 because even though you have to invest, the income in the future will be more than what you invested at the first stage."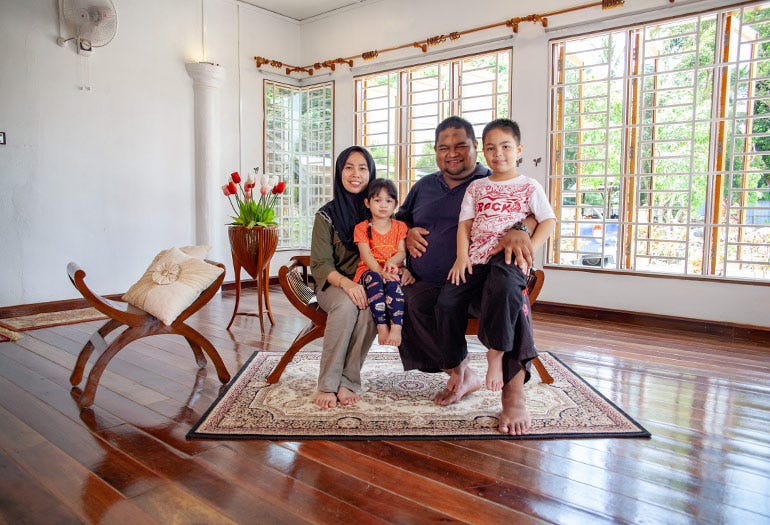 "I want to advise people who have a dream like this," Nazmie continues, "If you have a dream, just do it. Ask for advice from your parents and from your wife—definitely from your wife. But the important thing is you, and whether you want to do it or not."
"There must be a risk. If you want to do something but you think of the risk first, you'll never make it. So you have to think positive. Risk is always there. But focus on your way forward."