Sawmilling Oak with the Wood-Mizer LX50 in the Netherlands
By Betty Morsinkhof, Netherlands

Located in the Dutch village of Lutten, Bob Otten runs his own sawmill business, The Otten Sawmill. There is no finer wood than oak for this craftsman, who is deeply passionate about his work. He spends his days working outdoors, "There are some people who just can't be kept indoors... I'm one of them," says Bob.
Oak is perfect for crafting authentic haystacks, rustic barns, traditional roof frames, and other products. Bob Otten oversees the entire process — from felling the trees, sawing, to construction.
As you drive onto Otten farm, one thing immediately catches your eye - the sturdy oak hay barn, home to fallow deer and free-range chickens. "Oak is the most beautiful wood in the world," says Bob. "It has a warm, luxurious appearance and is long-lasting. Oak carries a certain exclusivity. And yes, it comes at a price. But a select group of people appreciate oak and consciously choose this type of wood."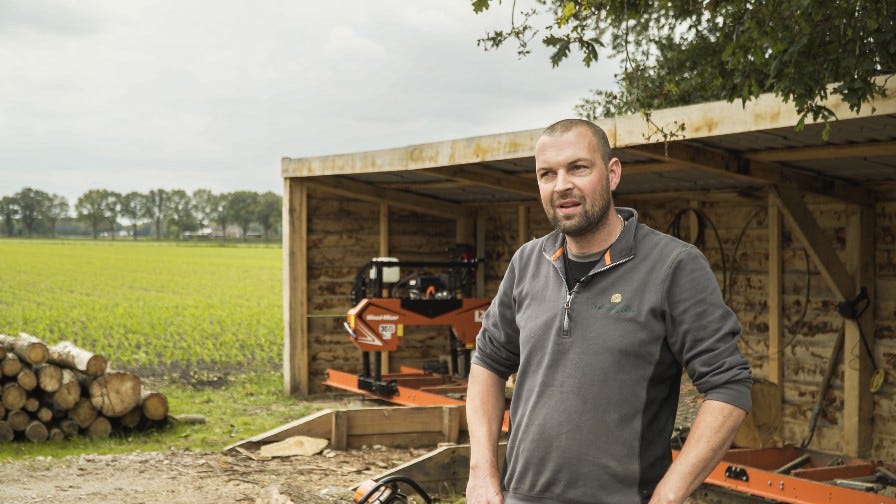 Path to the Profession
Bob Otten was initially trained as a gardener. His father, who also ran his own forestry business, spotted his talent for working with oak. "He asked me to join the company. We had to work together for at least a year, even if one of us didn't like it. That was his condition," Bob says with a laugh. "For me, that meant three days of working in the forest as a machinist. And two days of sawing and building with my father. " When his father bought a batch of roundwood, specifically oak, it quickly became apparent that Bob was a natural for this kind of work. "Once you discover a passion for wood, you never stop. Of course, my father knew that from the start. And that's exactly what happened to me."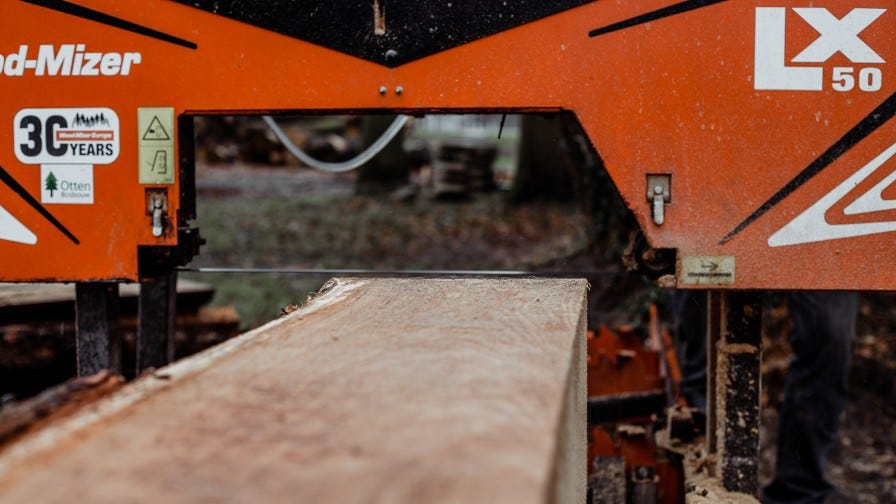 After his father's death, the forestry business also stopped. Bob began working as an independent driver in the forestry industry. It was good work, of course, but his heart was elsewhere - sawing and building were what he loved most. "For over a year, I worked on the roadside, mowing verges. Then I would see them drive by, the trucks loaded with roundwood. The itch grew stronger." When he and his wife Gerwine had the chance to buy a house near Lutten, his dream moved closer to reality. He preferred something other than the existing wooden shed on the property. Of course, he bought a lot of round wood oak to build himself a new shed. And that was the beginning of Houtzagerij Otten (Otten Sawmill in Dutch).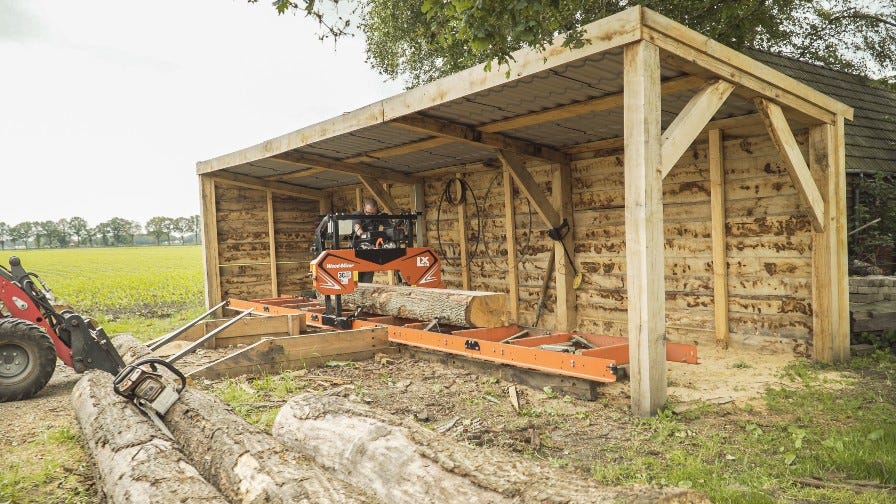 Becoming a Sawyer
Bob's wife, Gerwine, is an indispensable part of Houtzagerij Otten. She aids her husband with administration, produces pamphlets, and is active on social media. This lets Bob focus on his great passion: sawing and building entirely. Bob aims to do the entire process himself: logging, sawing, and building. Doing this requires a professional sawmilling setup.
After much thought, he made the decision to buy a Wood-Mizer sawmill. "There are several sawmill brands on the Dutch market. Wood-Mizer might be a bit pricier than the others, but its quality is well above average," Bob states. "Gerlo Breukers is the Wood-Mizer distributor for the Netherlands, but I've known him for much longer. For years, he came to our home with his mobile sawmill. I loved being around the sawmill; it was wonderful. From him I learned the art of sawing. And, of course, I've also witnessed the quality of his sawmill," Bob explains. "Gerlo is a hands-on guy and knows what he's talking about. I was confident that we could do honest business together. That proved to be true. If something isn't right, I can call him anytime. It's very helpful!"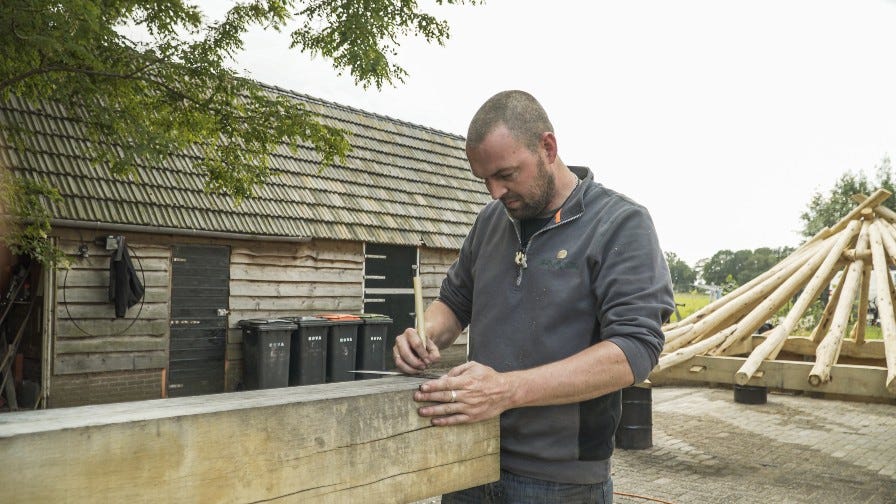 For the operation of Houtzagerij Otten, Gerlo Breukers recommended the Wood-Mizer LX50 stationary sawmill. "For our work, this sawmill has met our expectations one hundred percent," Bob assured. "On-site sawing isn't my aim. I want to saw roundwood into planks and beams," he explains. "The LX50 is the smallest model in Wood-Mizer's range of stationary saws. This saw doesn't have hydraulic functions. Admittedly, things might move faster if it did. But I have a small scoop to lift and turn the logs. It works very well. This is a suitable machine for the sizes of logs we're handling here. It cuts with great precision and maintains accurate dimensions. That's essential for the structures we're crafting here. The LX50 is sufficient for us at the moment," he continues. "If the number of orders increases in the future, production will have to scale up. At that point, considering a larger and more powerful sawmill would be worthwhile."


Recently Wood-Mizer upgraded its LX50 sawmill series resulting in two new models – the LX50START and LX50SUPER with the lowest price between low-budget sawmills on the market. They are capable of cutting logs up to 66cm in diameter. These machines can now be purchased online and delivered on a single pallet.
Returning to His Craft
Bob learned his craft from his father, purely hands-on, and he enjoys it. He crafts tables, fences, barns, hay sheds, and shelters with adept hands. Traditional work with mortise and tenon joints. "To me, that's the way to construct with wood," he says. He applies the same technique to traditional roof trusses. "For instance, for restoration work on historic farmhouses. But you also see more and more beautiful uses of oak in upscale new homes."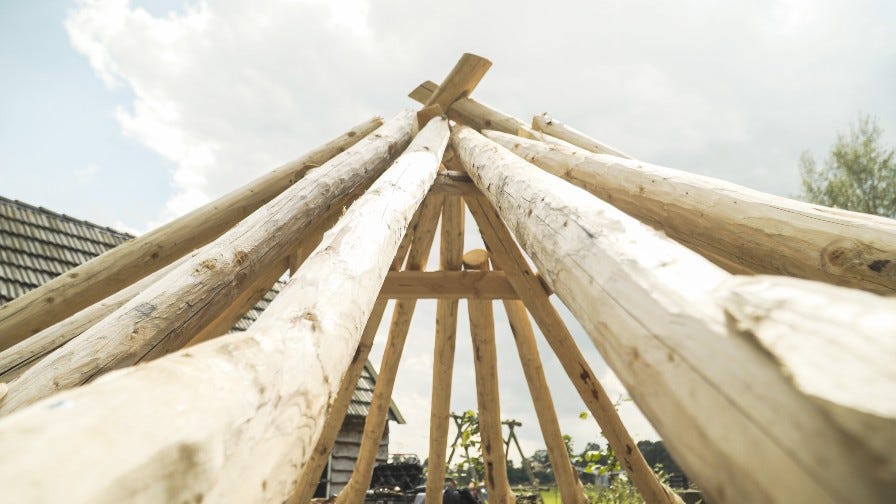 "The beauty is that we build the barn from scratch right here on the property. Since we handle the entire process ourselves, it allows for better quality control. We work for construction firms and private individuals," he says. "People often come to us with a specific idea in mind. Together, we flesh out their wishes and brainstorm possibilities with them. In collaboration, we can craft a solid plan and the construction is then carried out on-site," he continues. "Within one or, at most, two days, it's up. I always look back with pride." He also finds it delightful when people give a second life to old trees in their gardens by sawmilling them and creating from the timber something like a handcrafted table. "Great concept. That's the kind of work I love doing. I constantly crave that challenge. This work brings me immense joy."