Retired Engineer Sawmilling and Woodworking in the French Alps
By Marcin Kozłowski, PR Specialist

Henri Kurzaj is a French entrepreneur of Polish origin who has been working with wood for almost six years. His company Forest-Ethik deals with the design and concept of original wood products made of local timber. He enjoys living in a small village in the French region of Savoie.
"I have always wanted to find a place to relax and to have close contact with nature. As a retired construction engineer, who used to drive a lot for business and visit various construction sites, I wanted to purchase my land and enjoy the presence of nature daily," admits Henri. Indeed, his 14 hectares of forest and fields make a fantastic opportunity for him to listen to the birds and watch the trees grow.

Savoie is a French region located at the foot of the Alps which borders with Switzerland and Italy. It's renowned not only for its excellent conditions for mountain climbing but also for original local products. The regional cheese and wine with the "Savoie" label are known as one of the finest in France. And so is the furniture made of solid wood sourced from the local forests. "I think the solid wood from our regional forests is noble and beautiful, and that's why it should be valued and respected," says Henri Kurzaj.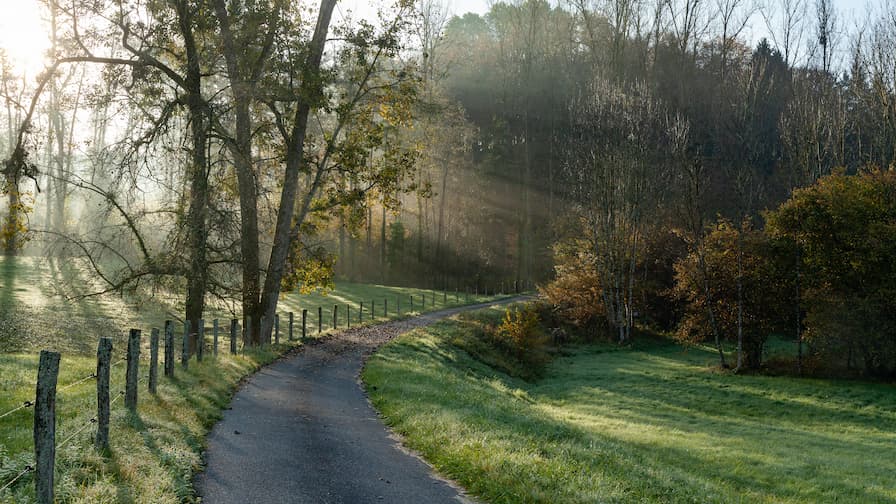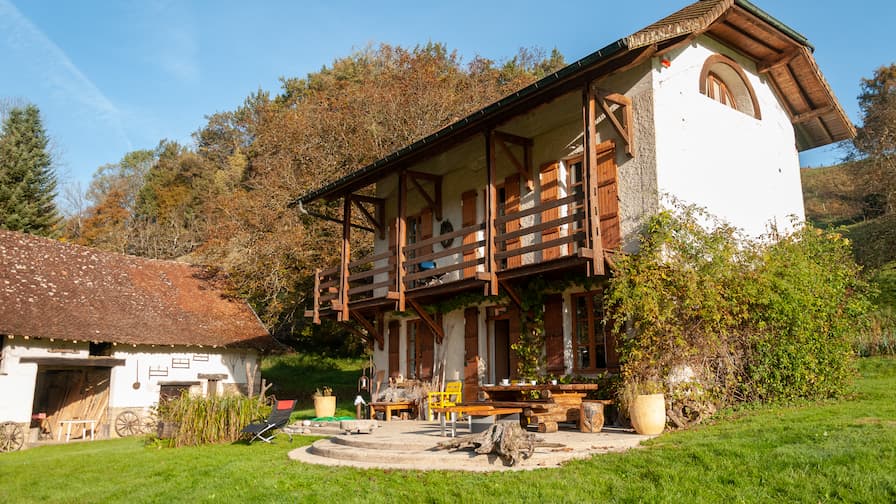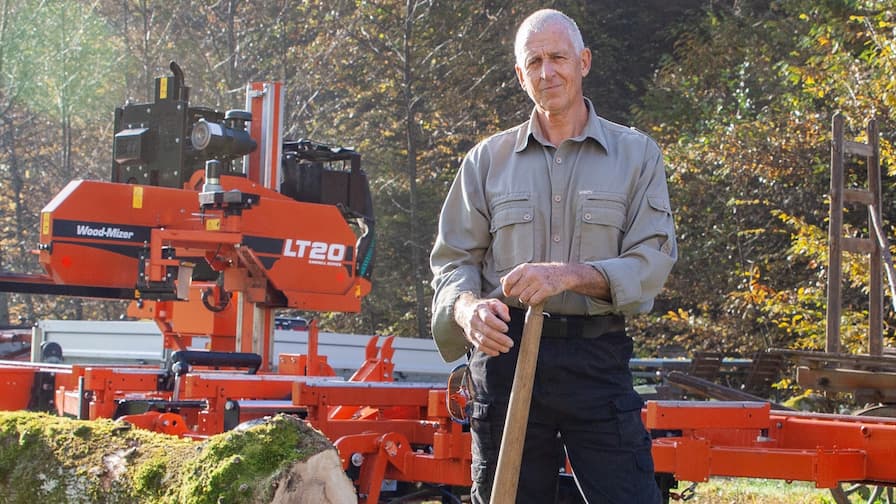 Even though Henri is a retired construction engineer, he still is active in business life. "I take a lot of inspiration from the woods that surround me. There are many trees in the area, especially the ash woods. There is also much competition in the region with many big-name companies that produce furniture and wood products. This is a challenge to take part in the competition and offer customers my original wood designs," Henri points out. "I'm glad I can offer the beautiful local wood, which didn't come from some far-away continent. I'm proud I can work with the wood from my forest. It gives me true inspiration."

Henri had been fascinated with wood, especially solid wood, long before starting Forest-Ethik's woodworking company. In the beginning, there were small and straightforward creations that he designed and made in his workshop, but soon he progressed to making more prominent products, such as tables, benches, chairs, or shelves – all of them made from natural solid wood.

"What I like about wood is its character. Each log I mill is different, even if it's the same kind of wood. Wood always differs in smell, look and touch," notices Henri.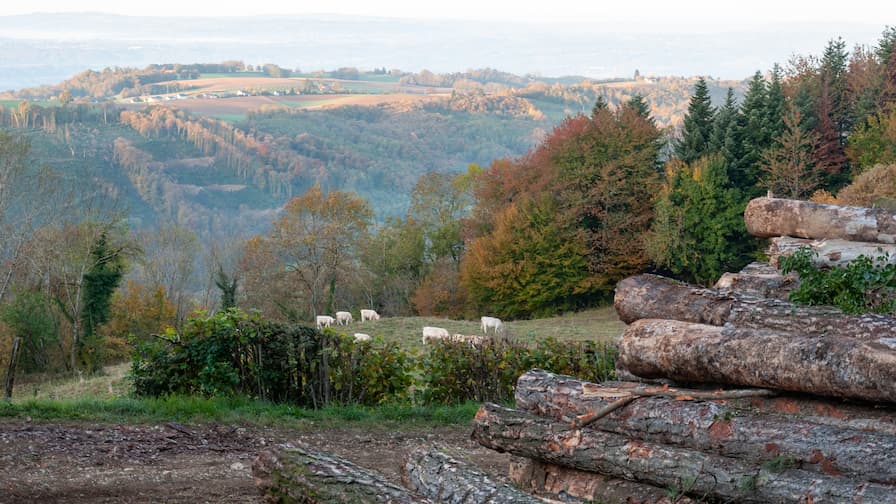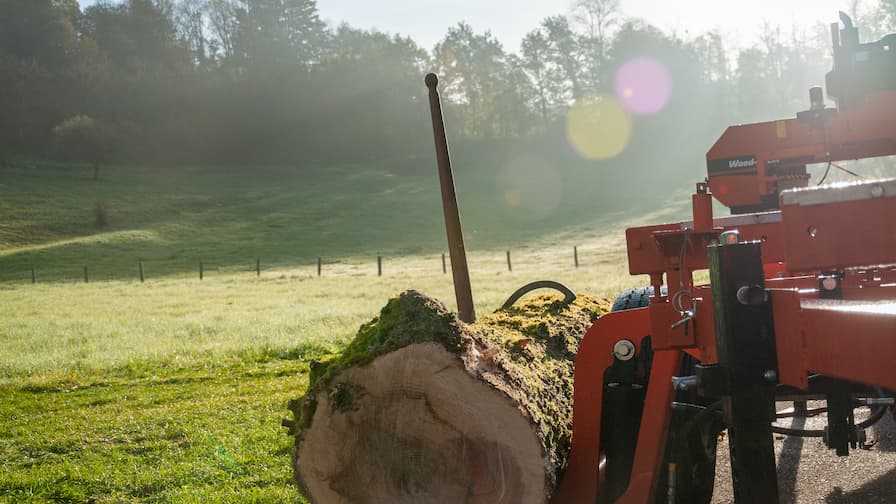 Forest-Ethik offers solid wood products that are creatively designed and finished with the highest precision. "I'm the author of these creations, and I'm alone in making the designs, concepts, and assemblies. Due to my earlier profession in technical engineering, I have enough knowledge and experience to do all the production steps myself," says Henri.

"In my designs, I try to build each time something very different, something that doesn't exist on the market. It could be a table, chair, furniture, basically something that doesn't stick to any known school, a combination of steel and metal. And I know how to do it; I have a patent for it which is called Forest-Ethik."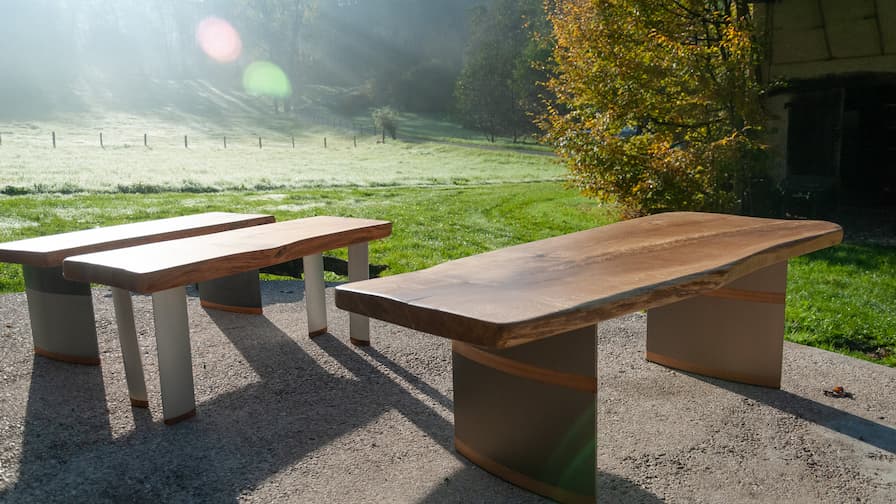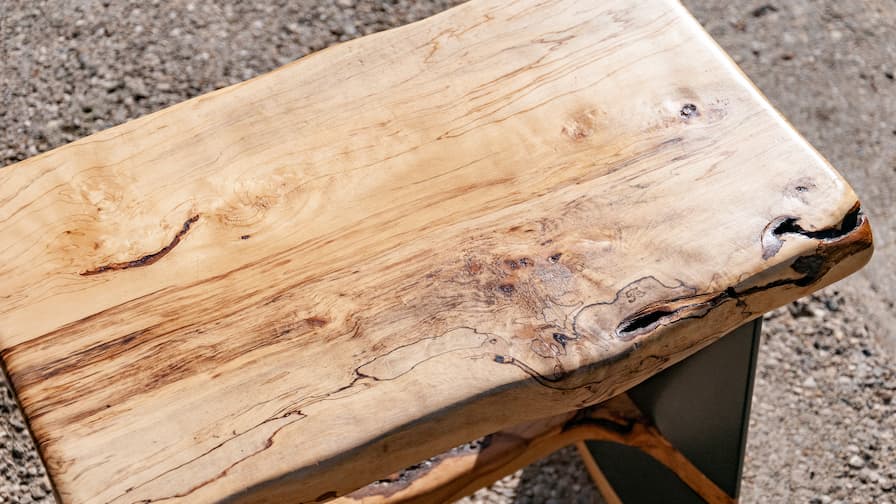 "What people like a lot in solid wood is its natural shapes and patterns, especially when it is well visible in the product. That's why, when I work with wood, I try to preserve all its natural shapes, curves, and rough edges," he explains.

It seems that wood gives inspiration to woodworkers like Henri and customers who find fresh ideas for different wood products.

"My customers like creative combinations of wood and metal. I listen to their ideas and figure out how to turn their vision into a real product. Sometimes I'm astonished about how creative my customers get," admits Henri.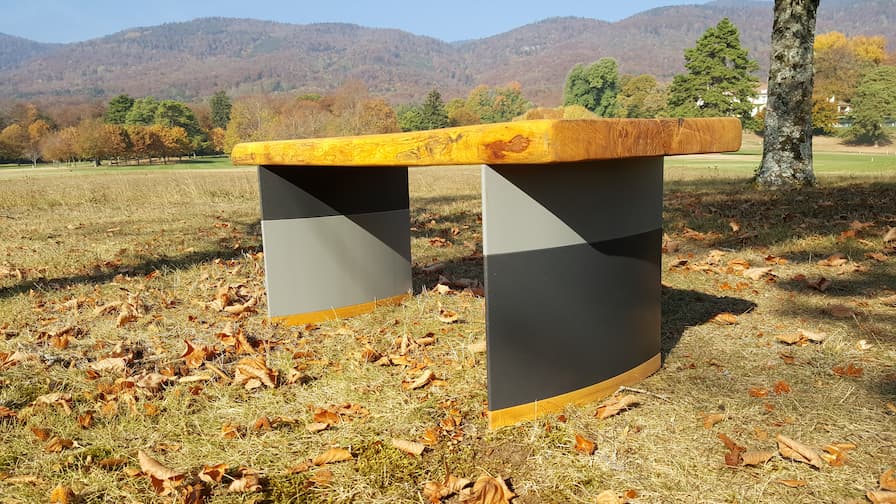 The range of tools and machines that Henri uses spans from a simple chainsaw to fall dead or damaged trees in his forest to various grinders and sanders and finally to the sawmilling machine, the Wood-Mizer LT20 hydraulic. "I like this sawmill for its flexibility, mobility and obviously for its high capacity of cutting. I mill 5,5 m logs with a diameter of over 60 cm and get the high cutting precision. The LT20 sawmill has an automated board thickness control system (Setworks)," explains Henri.

"First, I have to see the shape and the length of the log. Next, with the hydraulic functions, I load the log on the sawmill bed, turn it over to find the best position, and clamp it to make it stable and secure. Finally, I'm beginning to cut – just like that!"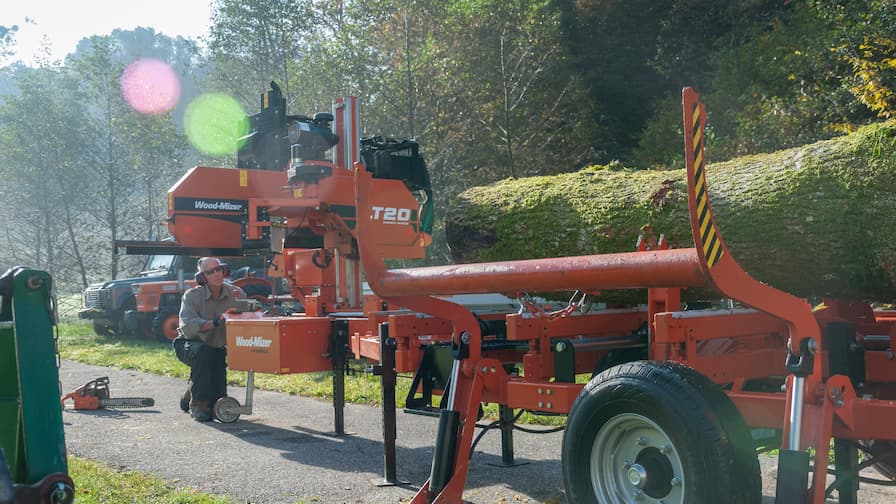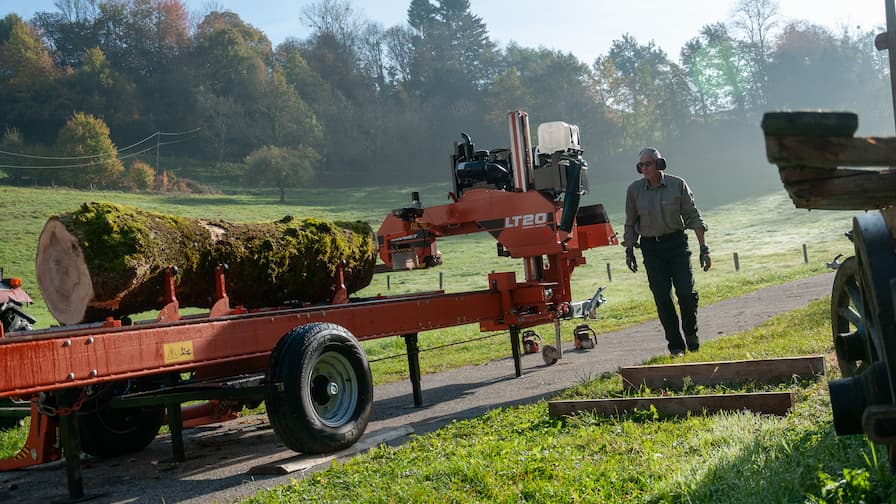 Henri admits he had been looking for a good sawmill for a long time. In the beginning, his primary tool for slabbing a log was a chainsaw because it was the only relatively easy way he knew at that time. Even though Henri tried to make the surfaces as flat as possible, the process was too complicated and took too much time, not to mention the safety standards.

Henri experimented with a chainsaw on the frame and tried Italian and Canadian sawmilling tools. Still, none of them came close to what he expected from a good sawmill.

"About five years ago, I was at an exhibition in Lyon, and I saw a Wood-Mizer mobile sawmill for the first time. I got very excited because it was a smart, practical, and professional solution. I thought it must be the answer to all my sawmilling questions," remembers Henri.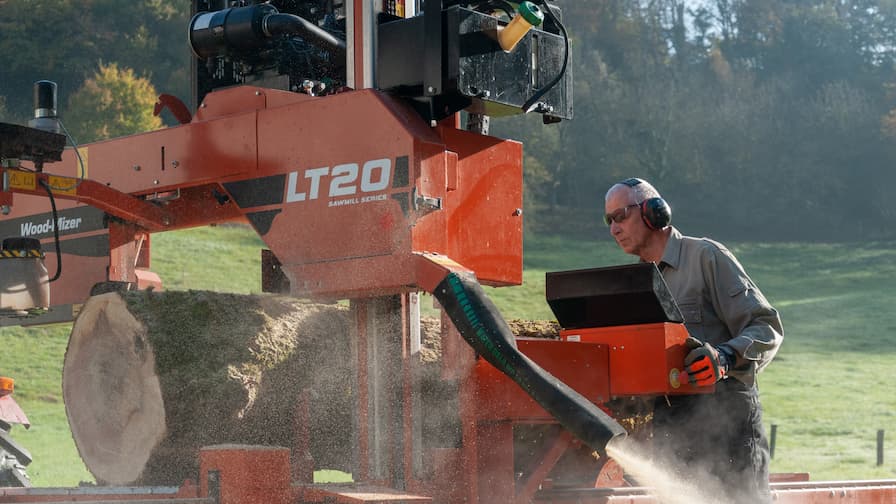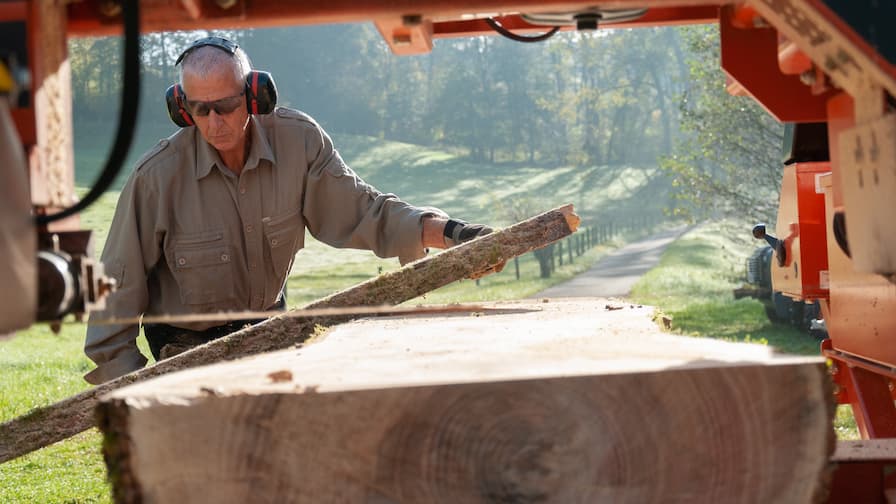 Henri called the French office of Wood-Mizer and learned about the Wood-Mizer production factory in Poland. He also decided to contact the Polish staff and talk about sawmills in his native language.

"I received an amicable communication. The only question for me as if I was ready to invest in this machine? I decided to do so, and now I'm happy about my decision," points Henri.

Today Henri works on the material, which is a maximum of 60 cm wide, and if he needs to make a larger piece of furniture, he asks for help from his fellow carpenters who assemble the wooden construction for him. In the future, he would like to make everything on his own, which is why he is considering buying a Wood-Mizer planer/moulder.

"My wish is to be able to make large wood assemblies myself," says Henri. "I could prepare raw material on the sawmill and produce finished products on a planer/moulder. I know, with Wood-Mizer planer/moulder, it's easy to do!"