Dutch unique wooden articles producer increases its performance with WB2000
By Wood-Mizer, Europe

Richard Wigink has been running his company in Holten, Netherlands for over 30 years. He was initially engaged in a tree surgery. Richard always found great value in the trees he removed, often created various articles from them and was glad to know that the tree continues to be valuable and serve for many years. Today, it continues to pursue the same goal.
"It's hard to believe how much my company grow. I started with making small items from oak wood, and right now we offer more than 100 products", Richard says. "We care a lot to use every piece of the wood. It's totally possible not to create wooden waste, and that's what we try to do, and what I personally care the most about", he adds.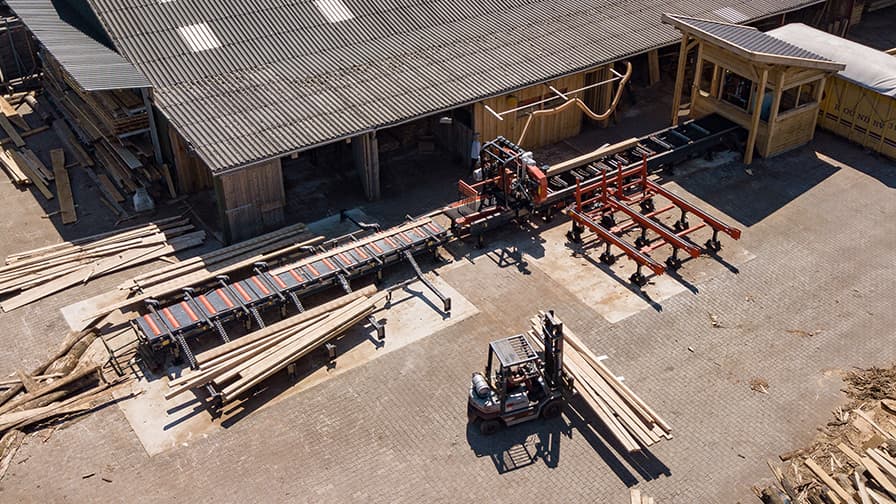 Today, Richard's company produces a wide range of wood products. Starting with constructions through arbours, playgrounds, haystack buildings, fences, to furniture and home accessories. The owner says with a pinch of salt that they can do anything out of wood and the impossible requires only a little more time.
The reason for the success of the company is its ability to open and focus on customer's needs.
"The key to our success is that we listen to our customers very carefully and always focus on their needs. They come here with an idea. It's our role to get as many details as possible from them to create the product they imagined", Mr. Wigink says.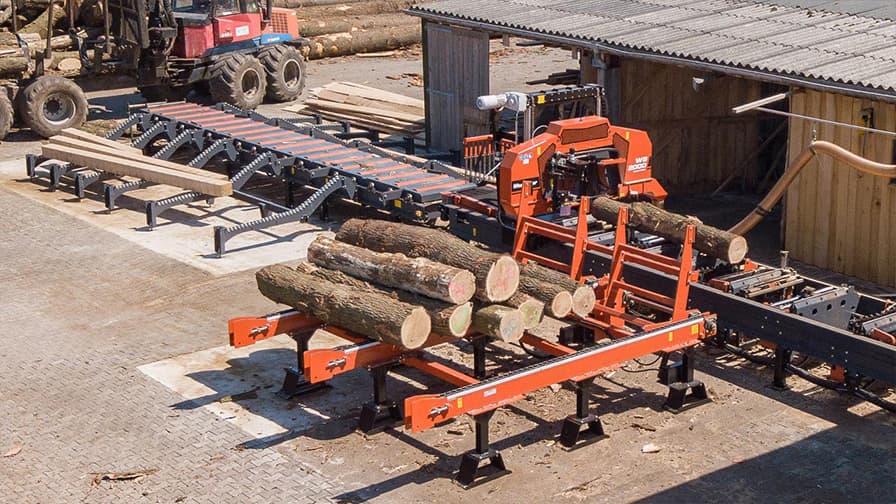 Richard uses a traditional, but a slightly forgotten method of natural wood conservation in his company. "We do something that is called wood watering. We put round wood into the water and leave it there for about a year. Soaking in water removes sugar from the wood what makes it insect-resistant and less likely to shrink and expand", he explains.
When the logs are removed from the water, they are further processed. Some of them are being transported to a sawmill and cut into beams and boards of the required size.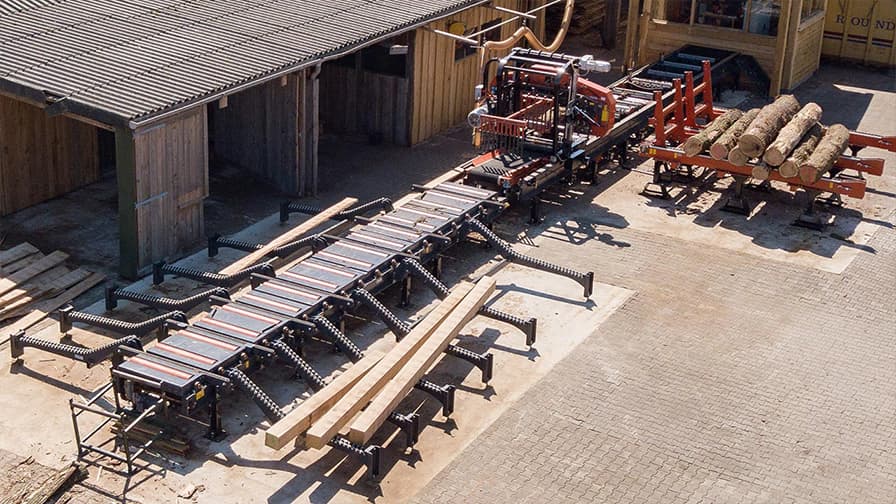 The sawmill they had used so far became too low-performance, so Richard asked Wood-Mizer for help in choosing the most suitable machine.
Wood-Mizer dealer investigated the company's needs and presented an offer of machines that would meet their expectations. Therefore, Richard and his team have chosen the WB2000 wide band high performance sawmill with log loading deck, conveyor and a set of sorting and transfer tables.
"We are very happy with our choice. The WB2000 can cut big and long logs very fast, it is also very precise and easy to use. But what we love the most of that machine is that we can make everything with it - any size of planks, beams in various dimensions and always precisely dimensioned. It never fails us", Richard says.
Operators at Richard's company value the convenience and ease with which the machine is handled. The owner is laughing at the fact that they are arguing of who is going to work with it.
"The operator handles the entire process of log loading, cutting and unloading of the finished material remotely from the operator's cabin. He seats in a comfortable chair, watch the whole process on the screen thanks to the cameras and manage it with two joysticks. It's a great job indeed", Richard is laughing.
With WB2000 on site, Richard's company's productivity has been greatly improved and its performance has been maximized. "We cut logs up to 95 cm diameter and about 10 m long. Right now we cut about 10-15 cubic meters of round wood per day, but I feel that soon, as we get use to the machine - cause we only use it for couple months and still learning - we will cut much more", says Richard.
Mr. Wigink is very pleased with the choice of the machine and the service and support he has received from Wood-Mizer. "They instated the machine and taught us how to use it. Right now, if we have a question we can just call Wood-Mizer's dealer, and he is always there ready to help us", he says.
"I think that Wood-Mizer machines are the best solution for woodworking companies. The quality is excellent and there is a lot of experience in the company. I trust Wood-Mizer a lot", Richard confirms.