Wood-Mizer To Present Sawmilling & Woodworking Machinery At Scotland Open House 2019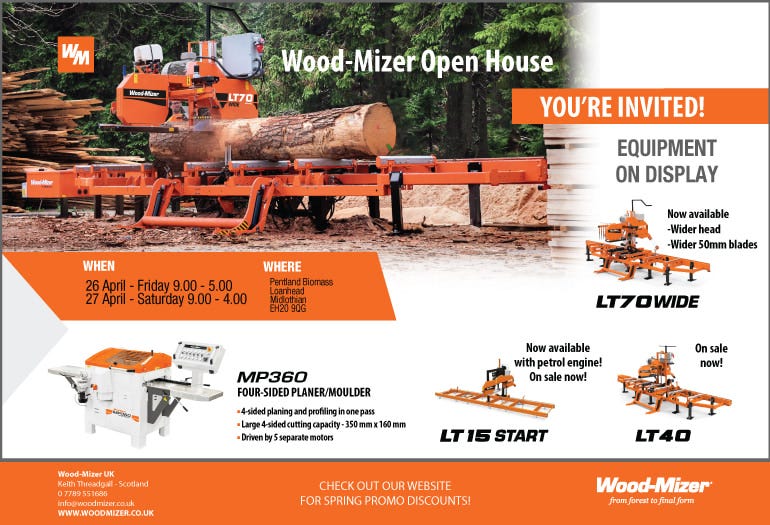 The annual Wood-Mizer's Open House is a unique opportunity to discover new products, get to know current promotions, share experiences with other Wood-Mizer's owners and meet local sawmillers and Wood-Mizer representatives.
We kindly invite you to this year's meeting, which will be held in Midlothian, Scotland on 26th and 27th of April.
Attendees will get to see new secondary processing machinery alongside the company's well-known sawmill models.
This meeting will be a great opportunity to see well-known and trusted sawmilling solutions such as the LT40 and LT15START (now available with a petrol engine) in action.
The MP260 4-sided planer/moulder for woodworking companies will be also demonstrated over the course of the two-day event. The MP260 enables small to medium workshops to affordably plane and mould a large range of finished timber products with minimal investment.
Additional products including the LT20 Mobile sawmill and the new LT70WIDE sawmill with a wider head and wider 50 mm (2 inch) blades will be also demonstrated at the event.
The Scotland Open House will be supported by Jas P Wilson, who will present a new firewood processor, and Pentland Biomass.
Wood-Mizer UK is currently offering a limited time spring promotion on several sawmill models. Find out more about the promotion details at the event, or check out the full details on our website.
Looking forward to seeing you!
WHERE
Pentland Biomass
Loanhead
Midlothian
EH20 9QG
WHEN
26 April - Friday 9.00 - 5.00
27 April - Saturday 9.00 - 4.00